WesternU, Sight Savers America to provide assistive devices to children with severe visual impairment
December 5, 2018
Read 2 mins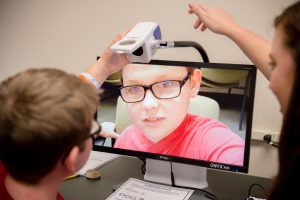 Western University of Health Sciences and Sight Savers America are partnering to provide four children with Freedom Scientific Onyx HD Electronic Video Magnifiers (EVMs) to help them complete schoolwork, see their loved one's faces and keep up with the academic demands of their fully-sighted peers at school.
"The children who will receive these rehabilitative devices have eye conditions that are not correctable with traditional glasses, contact lenses, medicine or surgeries. Most of them are legally blind. With the use of adaptive technology, they will be able to access regular print materials and participate in classroom activities independently alongside their sighted peers," said WesternU College of Optometry Chief of Vision Rehabilitation Service Linda Pang, OD, FAAO. "This is the fifth year we have provided this wonderful service, which has enabled us to transform the lives of children with impaired vision so they can participate in simple everyday activities without constantly relying on others' help."
Sight Savers America purchases the equipment – which is not covered by medical insurance plans – once funding is secured from donors, trains the child and their parents to use it, and places it in their home at no cost to the family. Sight Savers America will also provide extensive follow-up care until the child reaches the age of 19 to ensure the equipment is maintained and used properly.
"Sight Savers America and WesternU have a successful long-term partnership that has allowed Los Angeles-area children with low vision to achieve their best possible vision," said Sight Savers America President & CEO Jeff Haddox. "Children receiving the Onyx electronic video magnifier at this clinic will use this equipment at home to do their homework and many other daily tasks. These children will now be able to maximize the use of their remaining vision to succeed in school and achieve their independence, changing their lives forever."
The four recipients are between the ages of 10 and 18 and live in Upland, San Bernardino and Pomona. They will receive their EVMs and learn how to use them from 8 to 9:30 a.m. Thursday, December 13, 2018 at the WesternU Eye Care Institute at 795 E. Second Street, Pomona, California, 91766.
The clinic is made possible by generous funding from the Karl Kirchgessner Foundation and Vispero.
Categories: