WesternU, Sight Savers America help children with severe visual impairment
February 24, 2017
Read 3 mins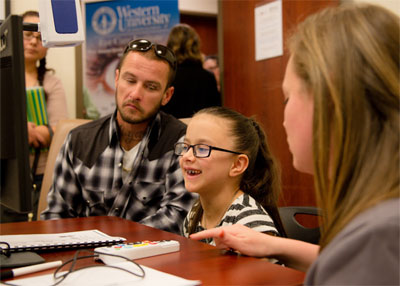 Four children with severe visual impairment visited Western University of Health Sciences' Eye Care Institute Feb. 22, 2017 and went home with Freedom Scientific Onyx HD Electronic Video Magnifiers (EVMs) to help them complete schoolwork, see their loved one's faces, perform at their highest potential for a variety of tasks at home, keep up with the academic demands of their fully-sighted peers at school, and even reach for the stars.
The children received the EVMs from Sight Savers America, a nationally expanding nonprofit organization that provides eye care and low vision services at no cost to qualifying individuals. All four children have severe visual impairment that cannot be corrected with eyeglasses, contact lenses, or medical or surgical treatment. They were referred by WesternU College of Optometry Chief of Vision Rehabilitation Service Linda Pang, OD, FAAO. Pang also provided the eye evaluations that determined if the children could benefit from the technology.
Sight Savers America provided each child with hands-on training on the EVMs, which allow the user to enhance contrast and magnify objects by 131 times.
"It's really an incredible day – providing these devices for these children knowing they will be able to have the tools they need to maximize their remaining vision," said Sight Savers America Grants Manager Michelle Littleton "This will allow them to read and write and draw and really participate in daily activities that would otherwise be out of reach for them. It's really thrilling to watch the children see their own faces in focus for the first time."
EVMs are more expensive than a typical family can afford, and are not covered by any type of medical insurance. They are provided thanks to generous funding from the Charles and Mildred Schnurmacher Foundation, the Million Dollar Round Table Foundation, and VFO.
Sight Savers events demonstrate the impact that eye care providers, working with industry partners and philanthropic organizations, can have on their patients and the community, said College of Optometry Associate Dean of Clinical Affairs Raymond R. Maeda, OD, FAAO.
"Having a visual impairment is a significant challenge, especially for school-aged children," he said. "Our partnership with Sight Savers America has allowed us to have a profound impact on our patients. To be able to be a part of this endeavor is a privilege and honor, but even more meaningful is to see the faces of the children as the Sight Savers America staff train them on the devices and allow them to see things that were a challenge just a few moments ago."
Pomona resident Julia Chavira, 14, received training on the EVM while her mother, Maria Ortega, watched.
"I feel happy for her because she really needs this type of equipment," Ortega said. "We have been struggling to find certain things she can work with. I think this is going to help her a lot at home."
Pomona resident Raul Toledo Orona, 12, said the EVM is "very nice. It enlarges things I couldn't see before and makes things clearer to see."
North Palm Springs resident Kemberly Garland said she was having problems finding books for her 8-year-old daughter Aliyah to read because the print was too small. She had been reading kindergarten-level books because of their larger print; the EVM will allow her to advance her reading skills.
"She's looking forward to picking any book she wants," Garland said. "She can open it up and read."
Aliyah was eager to bring the EVM home.
"Me and my daddy are going to look at the stars and the moon tonight," she said.
Categories: