WesternU shows support for its 'First Five' Board of Trustees Scholars
February 27, 2023
Read 1 mins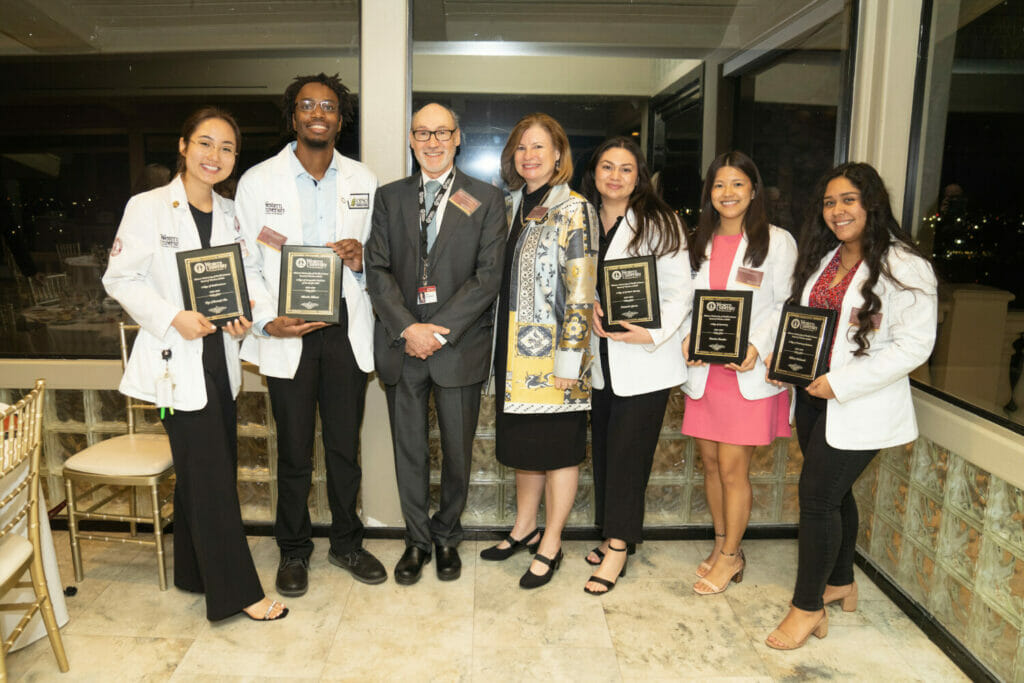 The Western University of Health Sciences Board of Trustees Scholars Circle of Support Dinner provided an opportunity to honor five special WesternU students and allow them to reflect on their journey to date.
The WesternU Board of Trustees created a $6 million endowed scholarship in 2021 to help remove financial barriers for students from lower socio-economic backgrounds and increase student diversity in graduate health sciences and the health professions workforce. WesternU held a special dinner honoring the first five students to receive this scholarship on Friday, Jan. 13, 2023 at Coco Palm in Pomona, California.
The inaugural Trustee Scholars are:
Martin Allums, College of Osteopathic Medicine of the Pacific – Northwest
Allison Belaunde, College of Veterinary Medicine
Tenzin Choedon, College of Optometry
Hye (Hanna) Chu, College of Health Sciences, Physician Assistant Studies
Dámaris Abigail Garza, College of Graduate Nursing, MSN-E program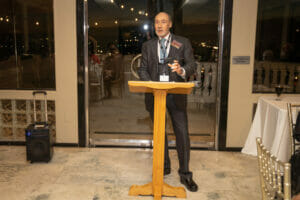 WesternU President Robin Farias-Eisner, MD, PhD, MBA, said the Board of Trustees has built this program and these resources to make this scholars program a reality.
"We celebrate these First Five Scholars at WesternU. You embody and symbolize who we are and who we aspire to be. We want to dismantle health education disparities. To break down and attack systemic injustices. To remove financial barriers. To create scholarships via these pathways, and through our capital campaign, we want to build our endowments so scholarships for all who face financial barriers become the new normal for our University," Farias-Eisner said. "Thank you for being here as our first scholars and allowing us to start with you. We are eternally grateful."
WesternU Board of Trustees Chair Elizabeth Zamora, MBA, LHD (Hon.), said the Board of Trustees Scholarship Fund was established for the purpose of supporting and empowering students from economically disadvantaged and underrepresented groups within the WesternU student body.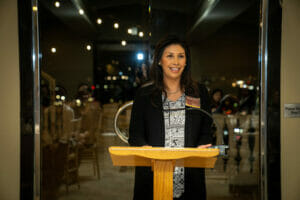 "As a low-income, first-generation student myself, I know the transformative power that scholarship support and financial assistance can make. It makes all the difference in one's educational journey. It made all the difference for me," Zamora said. "This scholarship endowment is a Board commitment to the WesternU core value of humanism. It's an investment in people of exceptional promise and an intentional action toward removing structural barriers that impede the access and success of underrepresented students in the health sciences.
"The Board remains committed to sustainable growth, not only in the diversity and in the number of scholarship recipients, but also to enable the growth of the fund over the very long term," Zamora added. "On this evening as we celebrate our Trustees Scholars, let us remember that all of us need to continue to act with agency, purpose, and in support of our diverse community of students. On behalf of the Board of Trustees, I congratulate our First Five Scholars, knowing that they will make WesternU shine brightly through their accomplishments and become distinctive beacons of humanism in thought, word, and deed."
Each of the scholars were asked to reflect on their journey. College of Veterinary Medicine student Allison Belaunde said she has learned you can never predict what life will throw at you.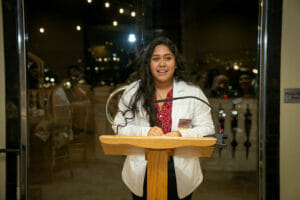 "There will be days where you are studying in your room at 2 in the morning, stressed because you have three or four exams the next day, and then there are times when you will find the value of being by yourself," Belaunde said. "My first semester has taught me that there are so many great things about vet school, but even if things don't go exactly as planned, for example, not acing that exam, losing friends you thought would last the rest of your life, or again having breakdowns because, that's OK too, just roll with the punches. There are always new people to meet, new experiences to have and new memories to make when you least expect it. Every twist in our story, every challenge we face, and every obstacle we overcome will be an important part of your story and is an important part of mine."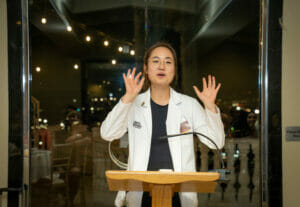 College of Health Sciences MSPA student Hye (Hanna) Chu chose the prompt "What I've learned about myself at this point of my journey." The PA program is fast paced, so she appreciates the support she has received from the CHS, her classmates and others, Chu said. She has learned many different skills that has given her confidence in developing treatment plans and a better understanding of the human body.
"I'm definitely ready to succeed in my class not only because of these experiences but because of your scholarship, which helped me reduce my financial burden to provide assistance for me as I continue to pursue this career progression," Chu said. "Next year at WesternU, I'm committed to further assisting health care students like myself and hopefully becoming an individual that can make this institution proud."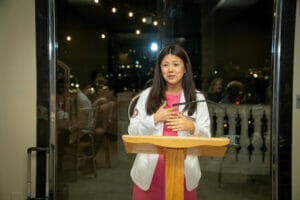 College of Optometry student Tenzin Choedon said although she was ecstatic about her acceptance into optometry school, she began to feel the financial stress shortly after.
"Therefore, you can only imagine how many tears I shed when I received my scholarship letter," Choedon said. "This scholarship has shown me that striving for my goals is possible and it has encouraged me to continue to take advantage of all available opportunities. Thank you to the donors, the organizers, the community and everyone who has contributed in allowing me to continue my academic journey."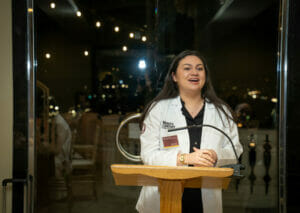 College of Graduate Nursing student Dámaris Abigail Garza talked about the advice she would give the next cohort of Board of Trustees Scholars. Her parents emigrated from El Salvador and Guatemala. She was the first in her family to speak English and go to school. As the oldest sister, she learned to do a lot on her own and is reluctant to ask for help because she felt she had to do it by herself.
"So my piece of advice is it is OK to ask for help and there is no shame in being vulnerable," Garza said. "And there are so many moments where I had to push myself to ask for help because I felt myself falling back into thinking 'you're the oldest, you're the first. You have to do it alone.' There really is no shame in asking for help. That is something I've learned and I hope (future scholars) will also uphold."
Garza also shared advice her parents instilled in her, which she keeps in writing above her desk as a daily reminder.
"Never be ashamed of where you came from and stay true to yourself as you navigate a world that tries to tell you who you should be," Garza said.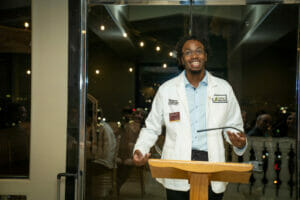 COMP-Northwest student Martin Allums flew from Oregon to attend the event. He attended the previous scholarship event via video streaming, and the organizers wanted to ensure all five scholars were together in person. He chose to reflect on the advice he would give future scholars. He talked about the gradual erosion of support, how he has felt isolation in his personal life and as an undergraduate.
"It was almost to the point where it was discouraging, to where I felt I couldn't do what I needed to do. There was nowhere I could turn to," Allums said. "Fast forward a couple years. That all changed coming to WesternU. My first day in Lebanon, Dr. FP (WesternU Oregon Associate Dean of Student Affairs Mirabelle Fernandes Paul) knew my name already. It's insane to know I had all this support, and all these people around me who wanted me to succeed, who wanted to really see success for the people in my community. That was really the first time I started to have a change and really started to lean on the support of others."
In his first semester at COMP-Northwest he learned to utilize, rely on, and thrive in that support system.
"The biggest advice I can give for the scholars coming in is lean on that support system because that is what is going to help you going forward," Allums said. "Last thing I wanted to say is thank you all again. I look forward to experiencing more of this journey with you all."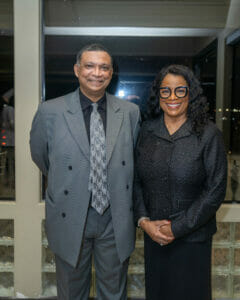 WesternU Senior Vice President for University Student Affairs Beverly Guidry, EdD, and WesternU Vice President for Humanism, Equity, and Anti-Racism Suresh Appavoo, EdD, are co-chairs of the Board of Trustees Scholarship Committee and co-hosted the scholars dinner. Guidry said the University decided to have a banquet to honor the scholars in January because "we want to share and celebrate and recognize the small steps you're taking on this journey. Your Circle of Support, we're going to be with you every step of the way."
Appavoo asked the scholars, "Do you feel the love?"
"I hope you do. And I don't say that facetiously," Appavoo said. "I sincerely, authentically mean that we want to make sure that you feel that we care about you. And we do. We may have lapses, that is reality, however we will not forsake you."
WesternU Provost Paula Crone, DO '92, thanked the Board of Trustees for its vision and dedication to bringing this scholarship forward, and to all those who support this scholarship.
"As you heard today, the impact this scholarship has had on these five young men and women has already been tremendous," Crone said. "For all of them it made a difference in how they're facing their first year in this postgraduate health care institution and as they start their journey on their health care professions.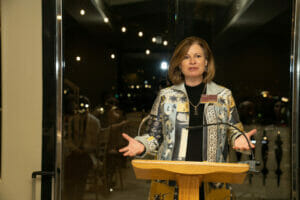 "Forevermore you're going to be known as our First Five. You have been multipliers your entire lives. The example that you are setting for your classmates, the impact that you're making on education just by being here, is already making a difference," Crone added. "I hope you realize every individual in this room and every individual at WesternU are part of your circle of support. All you have to do is look around you. Everybody here will do everything they can to help you succeed, now and into the future."