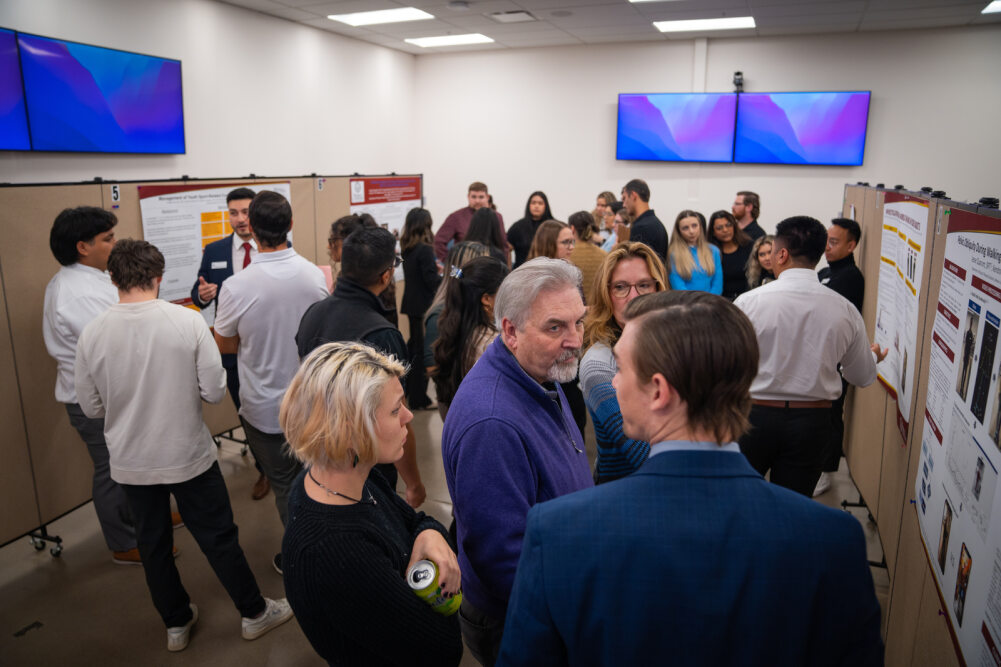 Western University of Health Sciences' Research Club of Lebanon held its 9th Annual WesternU Oregon Research Symposium on Nov. 3, 2023, on the WesternU College of Health Sciences-Northwest campus in Lebanon, Oregon.
This event was sponsored by the WesternU Office of Research and Biotechnology, WesternU Oregon Research Club, and the Osteopathic Physicians and Surgeons of Oregon.
The keynote speakers were Brian Delmonaco, MD, from Samaritan Health, who presented "Searching for the Black Swan with The Fat Tail: And What to Do When You Catch It," and Andy Karduna, PhD, from the University of Oregon, who presented "Neurocontrol of Upper Extremity Movement."
More than 60 students from the College of Osteopathic Medicine of the Pacific-Northwest (COMP-Northwest) and College of Health Sciences-Northwest (CHS-Northwest) provided poster and oral presentations of their research at the symposium from all areas including Basic Science, Clinical and Applied Research.
"The symposium was a success and we could not thank everyone enough who helped us with the event. It definitely took a village," said WesternU Research Club Fundraiser Coordinator and COMP-Northwest student Doan Phi. "I wanted to take another opportunity thank all of our sponsors, symposium judges, keynote speakers, and guests who took time out of their evening to come support the students at COMP-Northwest and CHS-Northwest. This year, Research Club leadership had a vision to continue to expand the annual research symposium from year to year and we had about 200 people who attended. It was important for us as a club to continue to develop a strong research presence and community at WesternU and in Oregon. Our goal is to help support students who want to be involved with and participate in research and we are hoping to keep expanding on this with every year, which is why I feel like our annual symposium is such a special event."
Award winners
Oral presentations:
1st: COMP-Northwest students Anna Mikami and John Petrucci
2nd: COMP-Northwest student Abrag Nassar
3rd: COMP-Northwest student Brent Marsonette
4th: COMP-Northwest student Arman Ameripour
Poster-Review/Lit
1st: COMP-Northwest student Katelyn Williamson
2nd: CHS-Northwest student Kristoffer De Leon
Poster-Basic Science
1st: COMP-Northwest student Natalija Miller
2nd: COMP-Northwest student Jenessa Olson
Poster- Clinical Research
1st: CHS-Northwest student Jesse Quarum
2nd: CHS-Northwest student Chase Cole