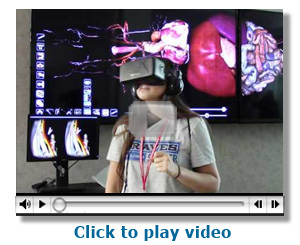 The J and K Virtual Reality Learning Center (VRLC) at Western University of Health Sciences is changing the way anatomy is taught. Outside organizations are visiting the VRLC to see firsthand how this cutting-edge technology works, and how they can incorporate it to suit their needs.
Executives from VCA Inc., a leading provider of pet health care services in the country, visited the VRLC Sept. 24, 2015. VCA has a nationwide clinical laboratory system and more than 600 free-standing animal hospitals in 41 U.S. states and Canada. VCA employs more than 3,000 veterinarians and more than 14,000 skilled pet care providers, support staff and managers.
VCA has the largest residency program for private practice, said Jason Marian, instructional design media program manager for VCA. "We see this (virtual reality learning) as a way of elevating our residency and internship programs."
VCA Co-founder and Chief Operating Officer Arthur Antin, who also visited the VRLC, served on the College of Veterinary Medicine's Advisory Council during its formation. So when he learned about the VRLC, it was a natural fit to visit, he said.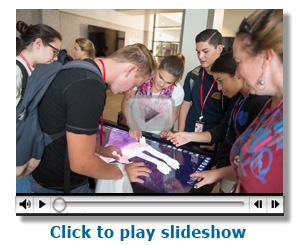 VCA hopes to become involved in providing content for the new technologies, and by adopting the technologies, benefit their own internal training and external relations.
"We see this as a key component for client communication," Marian said. "Using cutting-edge technology, the client feels more comfortable. You're not only more educated, you have the top technology you want as a client, whether for human or animal health. It gives peace of mind."
WesternU is matching this state-of-the-art equipment with a cutting-edge educational model. Students in one anatomy course, for example, use algorithms in an adaptive learning platform created by RealizeIT to track and predict their mastery of course content. Based on individual outcomes, small groups of students are given learning activities in the VRLC to apply classroom concepts, along with their own critical thinking skills. As each group works out its challenge, students become more responsible for their own learning. This self-guided learning concept – commonly referred to as a "flipped classroom" – is fast becoming a cornerstone of students' WesternU education, and is an educational model that sets the University apart from its peers while helping future health providers improve their information retention and their test scores.
The VRLC features an Anatomage Virtual Dissection Table, a quartet of zSpace 3D project monitors, Oculus Rift, and iPads.
"A year ago, none of this was possible, but the rapid development and convergence of technology have given us ways to teach never before possible," said Robert W. Hasel, DDS, College of Dental Medicine Associate Dean of Simulation, Immersion & Digital Learning. "Being able to deliver curricular content via a very powerful adaptive learning platform and track individual student knowledge gaps, knowledge proficiency, and progress in real time is an extremely valuable tool in managing a learner's pathway. Coupled with all the exciting VR technology, it gives the individual faculty and the program new ways to teach. The continuing advance in software and hardware technology only makes this paradigm even more exciting."
Forty honors anatomy students from Alta Loma High School visited WesternU on Sept. 30, 2015. During their visit, which was organized by University Recruitment, the students spent time in the VRLC and the anatomy lab, and listened to lectures on podiatric medicine and anatomy in animation.
"This is very exciting technology," said Alta Loma High School anatomy teacher Rebecca Scollon. "It's really powerful to be able to see something in three dimensions with the audio that goes along with it to really guide you through. It gives you a much better feel than in a two-dimensional textbook, or even when you look at it online."
Her class is made up of top juniors and seniors who are interested in medical careers. She teaches anatomy with PowerPoint presentations and handouts, and later in the school year her students will dissect fetal pigs, cow hearts, cow eyes and pig kidneys.
"Resources are limited. Funding is limited," Scollon said. "I do my best to pull together guest speakers that volunteer their time. I organize field trips like this so students can get hands-on experience.
"It's one thing for me to teach my students and have a PowerPoint, but for them to actually be able to practice and manipulate things on their own is instrumental in their overall education and in committing things to long-term memory, and really going away with an impression of what they learned," Scollon added.
Alta Loma senior Issa Ghazaleh tried out all of the technologies in the VRLC. It was difficult at first to use the Oculus Rift, he said, but he eventually found his footing.
"I think it's really good to be able to see things virtually rather than physically," Ghazaleh said. "That way you have more access to it, and you're able to see things better. It's different than learning on a worksheet or piece of paper, because I'm able to see it three-dimensionally and actually see it firsthand as if I were dissecting it. I'm able to see the whole thing rather than one aspect or one point of view."