WesternU researcher explores link between diabetes, pleasurable effects of nicotine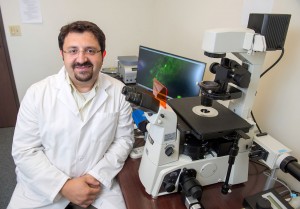 Western University of Health Sciences' College of Pharmacy Associate Professor Arbi Nazarian, PhD, received a $466,000 grant from the National Institutes of Health (NIH) to investigate how the pleasurable effects of nicotine are altered in persons with diabetes.
Nazarian's study, titled "Insulin mechanism of diabetes-evoked enhancement of nicotine reward, "combines two health conditions – diabetes and nicotine/smoking.
The long-term goal is to identify ways by which control and treatment of metabolic disorders can assist in facilitating nicotine cessation in persons who smoke and are diabetic.
"We are studying the role of insulin and how the insulin hormone is changing the way reward circuitry and the brain functions," Nazarian said. "We want to determine whether normalization of the diabetic state and changes in insulin signaling in the brain will reduce the enhanced pleasurable effects of nicotine. The epidemic increase in the rate of diabetes is a major health and sociological crisis, and there are growing threats of nicotine addiction from new methods of administering nicotine."
More than 29.1 million people, or 9.3 percent of the U.S. population, have diabetes, according to a 2014 National Diabetes Statistics Report by the Centers for Disease Control and Prevention (CDC).
Nazarian and his collaborator, Dr. Laura O'Dell, Associate Professor of Psychology at the University of Texas at El Paso (UTEP), hope their findings from the project help define neurobiological mechanisms by which persons with diabetes have a greater vulnerability to tobacco use.
"When we think about these two conditions together, nicotine use and addiction to nicotine and diabetes, one thing we need to keep in mind is one of the last things a diabetic should be doing is smoking," Nazarian said. "Smoking significantly magnifies the negative health consequences in people who are diabetic."
The effect of nicotine is more pleasurable for a person with diabetes. It's more difficult for a diabetic smoker to quit than a person without diabetes, Nazarian said.
"We are hoping our study will allow us to find new therapies and new ways of regressing nicotine addiction in people who have diabetes," Nazarian said. "Our work will help us understand novel methods and novel ways of treating nicotine cessation in those that are diabetic."
The three-year funding by NIH continues a project Nazarian and O'Dell started in 2009, when the American Diabetes Association funded their first grant on this subject. The College of Pharmacy and the Office of Research and Biotechnology also have been supporting the research.
Categories: