WesternU remembers visionary CVM planner Dr. Billy Hooper
June 21, 2018
Read 3 mins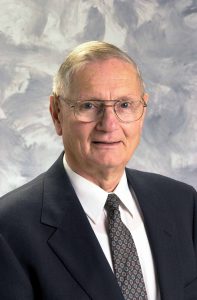 Western University of Health Sciences joins the veterinary community in mourning the death of Billy Ernest Hooper, DVM, who wrote the foundational document for WesternU's College of Veterinary Medicine.
A Celebration of Life ceremony for Dr. Hooper will be held Friday, June 22, 2018 at Soller-Baker Funeral Home, 400 Twyckenham Blvd., Lafayette, Indiana 47909. Visitation will begin at 9:30 a.m. and the service will begin at 11 a.m. In lieu of flowers, memorial contributions may be given to the Purdue Foundation for scholarships, to be used in support of students of veterinary medicine and veterinary technology, according to Hooper's online obituary.
Hooper died June 6, 2018 at IU Health Arnett Hospital in Lafayette, Indiana. He was a faculty member and administrator at several universities, including WesternU. He developed the first Washington, D.C. office of the Association of American Veterinary Medical Colleges and served as its first executive director. He served as a member and chaired the American Veterinary Medical Association Council on Education, the Committee on Veterinary Technician Education, and the National Board Examination Committee. In all these activities he was a leader in organizing and summarizing national activities devoted to the improvement of veterinary medical education.
Hooper was retained in 1997 by then-WesternU President Philip Pumerantz, PhD, to write a plan for a new and innovative College of Veterinary Medicine (CVM). His plan included two founding principles that continue to guide CVM to this day: problem-based learning (PBL) and strategic partnerships with the private veterinary sector to provide clinical training for students.
"He was incredibly intelligent. His career afforded him the opportunity to be well aware of all veterinary education issues. He used his incredible intelligence and his incredible vision to write a visionary plan," said Shirley Johnston, DVM, PhD, who served as CVM's founding dean. "All that our college has become has evolved from that plan."
Hooper proposed using problem-based learning as a platform to educate veterinary students in the facts of veterinary medicine. Almost every other veterinary school in the country was still teaching students in a traditional lecture format for the first three years of their curriculum, Johnston said.
"Billy, having studied problem-based learning, realized when students in small groups under faculty supervision started processing a case, like a dog with a broken leg or a dairy farm with poor production, they remember the details in the context of the case," she said. "PBL educates students to learn to find and judge information. Consequently, we expect our students will not practice the same mode of veterinary medicine every year. They will be able to stay current by understanding how to quickly find and judge information."
Hooper's plan called for students to be exposed to a variety of clinical settings through strategic partnerships, rather than building a large veterinary teaching hospital. This system is designed to maximize the learning experience in veterinary clinical practice or other careers and to graduate practice-ready veterinarians capable of functioning independently. CVM graduated its inaugural class in 2007 and now has more than 1,100 alumni.
"We have lost a true pioneer in veterinary education.  He was so accomplished and a very progressive thinker," said CVM Assistant Professor Suzie Kovacs, MSc, PhD. "Billy Hooper and his vision are the reason why our college has a course in public policy related to the veterinary profession (Veterinary Issues), a course truly unique to our CVM.  He will be missed."
Hooper was a trusted friend, confidant, mentor, supporter, critic and professional partner, said CVM Dean Phillip Nelson, DVM, PhD.
"The profession lost a visionary leader when he retired. We have lost a wonderful human being now that he has succumbed to life's final challenge," Nelson said. "I will miss our talks out of selfishness. I will joyfully remember the talks we had appreciably, endearingly, and with a sense of debt to others because I was blessed to have encountered such a gentle soul during my sojourn through life. His accomplishments have fueled our profession's progress. His rest is deserved, and well-earned. May he rest in everlasting peace."
Categories: