WesternU remembers and honors those who died in the Sept. 11 terrorist attacks
September 11, 2023
Read 1 mins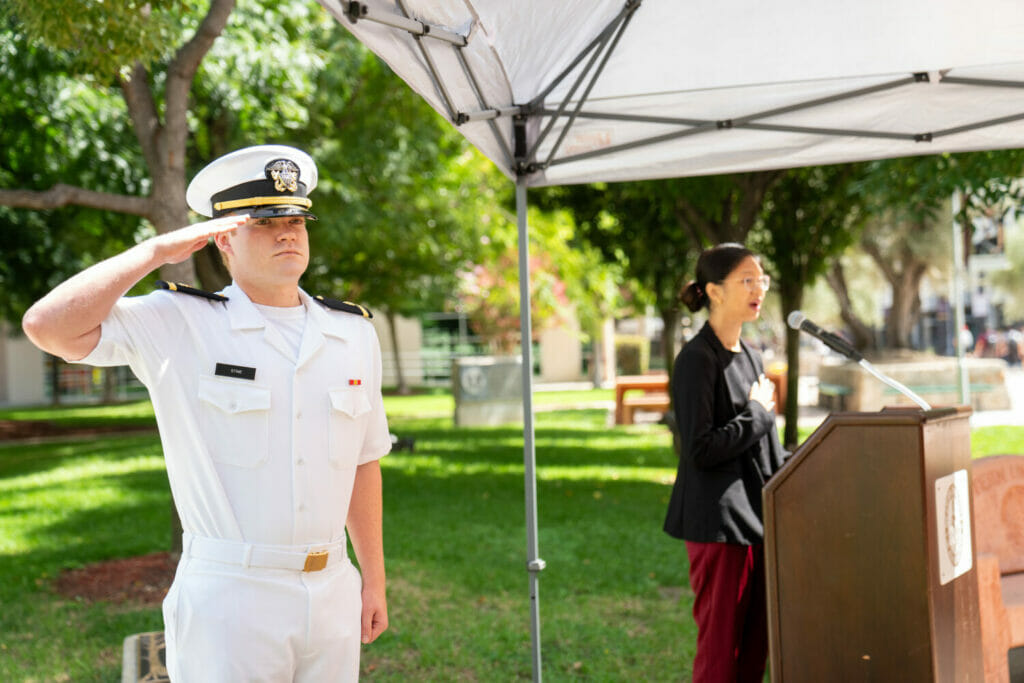 The Western University of Health Sciences Military Medical Student Association held its annual memorial service honoring those who died in the Sept. 11, 2001 terrorist attacks.
Guest speakers talked about the importance of remembering the sacrifices made and emphasized the importance of the younger generations, who may not have personal memories of that day, continuing to share stories and honor the fallen.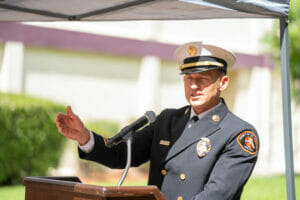 The ceremony was held on WesternU's Pomona, California campus Sept. 11, 2023. Los Angeles County Fire Department Acting Assistant Fire Chief Dustin Robertson said of the 2,977 people who died on Sept. 11, 343 were FDNY firefighters, and 71 law enforcement officers also paid the ultimate sacrifice.
"The fire service and the police departments on that day around the United States vowed to never forget the brave, courageous and extraordinary acts of heroism of the first responders on that day who paid the ultimate sacrifice of giving their lives to serve and protect others," Robertson said.
Most people will never forget what they were doing when they heard about the first airplane hitting the World Trade Center. Others were too young to remember, but they learned about that day through their parents or by watching TV documentaries.
"Even the way we live today, the way we travel, the way we go through the airports, the way we go about our day-to-day lives all changed because of 9/11 and the effects of 9/11," Robertson said. "For those of you that are too young to remember 9/11, I want to thank you in particular for having us here today and for being here today. I know we will never forget that day because of people like you continuing on and honoring the people that passed away."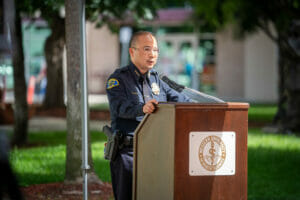 Pomona Police Deputy Chief Christian Hsu said our nation was badly shaken by the death, chaos and sadness that followed the attacks. But what also followed was a season of patriotism, support and service.
"Twenty-two years later, the impacts from 2001 may have dissipated, but I believe they will be firmly embedded as long as we intentionally take the time to remember and tell the stories that followed afterwards," he said.
One such story is FDNY firefighter Stephen G. Siller, who drove his truck to the entrance of the Brooklyn Battery Tunnel, but it was already closed for security purposes. He strapped on 60 pounds of gear to his back and raced on foot through the tunnel to the Twin Towers, where he gave up his life saving others, Hsu said. His sacrifice and the sacrifice of others inspired the Tunnel to Towers Foundation, which provides mortgage-free homes to Gold Star and fallen first responder families.
"On March 9, 2018, Pomona Police Officer Greggory Casillas was killed in the line of duty here in Pomona," Hsu said. "In 2021, Tunnel to Towers reached out and paid off the mortgage for the Casillas family. So headquartered in Staten Island, New York, they crossed the entire country to take care of a Pomona fallen. This is how we will continue to remember 9/11, the work that continues and those who have lost loved ones and family members as a result of 9/11."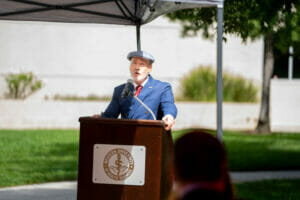 WesternU President Robin Farias-Eisner, MD, PhD, MBA, said we must never forget the innocent civilians who died on Sept. 11.
"I would also like to specifically honor and thank our extraordinary heroes here today," Farias-Eisner said. "Thank you to our police department representatives and fire department representatives who are here with us today and who do so much to protect us day in and day out. I also want to thank any of the elected officials who are here today with us. And I want to offer immense gratitude and a heartfelt thank you to all our first responders and to our armed forces, and to our faculty, staff students that have served and that may be currently serving our great nation."
Dr. Farias-Eisner asked for a moment of silence in honor of those who have sacrificed their lives.
College of Osteopathic Medicine of the Pacific student Dana Manalo performed the National Anthem. COMP student and Navy Ensign Michael Stine served as the master of ceremonies. He closed the ceremony by reading reflections of 9/11 by WesternU Provost Paula Crone, DO '92.
"Today, we vow never to forget the sacrifices made, the lives lost, and the indomitable spirit that emerged from the rubble. Let us carry the memory of 9/11 forward as a reminder of our capacity to stand strong in the face of adversity and to protect the freedoms we hold dear," Stine said. "May we continue to strive for a world where love, compassion, and unity prevail over hatred and division."