WesternU Provost to present Psycho-Oncology: The role of the Urologist at an international symposium
Western University of Health Sciences Senior Vice President and Provost David Baron, DO, MSEd, will present "Psycho-Oncology: The role of the Urologist" Sept. 24, 2021, at an international summit focusing on men's health related to oncology and urology.
The Central Americana and the Caribbean Urological Association (AUCA) is hosting its inaugural AUCA Leadership Meeting 2021 and the URO-CON and BPH Treatment Update Symposium Sept. 24-26, 2021 inRio Hato, Panama.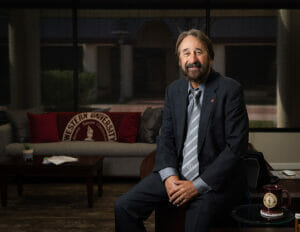 Baron is considered an expert in psychiatry and psycho-oncology. He is a former Chief of psycho-oncology at USC Norris Comprehensive Cancer Center and was recently elected chair of the American Psychiatric Association (APA) Caucus on Global Mental Health and Psychiatry.
"What we know is that men – in general around the globe – tend to not deal with their emotions as well," said Dr. Baron. "Well, turns out, by not expressing your emotions or trying to deny them, you pay a significant impact on the body's immune system."
Baron is scheduled to present on the first night via Zoom at 8:35 p.m. EST on Friday, Sept. 24. More than one dozen invited presenters from around the world are scheduled to speak during the symposium. The symposium is only open to paid registrants.
Baron says mental health is a very important part of treatment for cancer and that urologists play an important role in men's health and men's mental health related to that.
"It's really significant in certain parts of the world, but pretty much all over the world," Baron said. "It's important to get the urologist to understand that you know that a successful surgery isn't just one where you get rid of the problem, a successful surgery is also when you're able to provide a quality of life for this man."
Baron said he's excited about international talks like this because it helps people understand the stigma and prejudice against patients with mental illness or mental health issues.
"What I'm particularly interested in and really encouraged by is the increasing global awareness of the importance of mental health in health," Baron said. "This happens by working together (interprofessionally), which is what we do at WesternU."
Dr. Baron will be honored with the "Outstanding Professor and Leadership Award" for providing continuous support to science and academic work, and to AUCA and the Global Men's Health Foundation, said Dr. Ingrid Perscky Arravanti, president and founder of the Global Men's Health Foundation.
Categories: