WesternU Provost Paula M. Crone, DO '92, receives J. Scott Heatherington DO Lifetime Achievement Award
April 10, 2023
Read 1 mins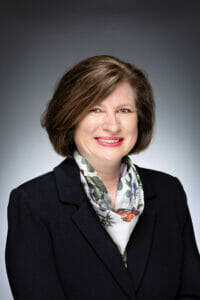 The Northwest Osteopathic Medical Foundation presented Western University of Health Sciences Provost Paula M. Crone, DO '92, with the J. Scott Heatherington DO Lifetime Achievement Award at a special online gathering March 29, 2023.
The award is presented to an osteopathic physician from the Northwest that has made a lifetime of contributions to the profession as well as the community, according to the Northwest Osteopathic Medical Foundation website.
Foundation President Lisa Watts, DO, said she completed a clinical rotation with Dr. Crone as a medical student. During that time, all of Dr. Crone's patients told her to become just like Dr. Crone.
"And they were right. She became my mentor. She was somebody who I really looked up to. Her way with patients was empathetic, she listened well, she was extremely knowledgeable, and I knew I wanted to be just like her," Dr. Watts said. "I later joined the Eastmoreland Family Practice Residency and there she was my program director. I got to see not only the medical side of things, but also her enormous leadership skills.
"Paula has gone on to have so much influence in her role as both dean and now provost at WesternU, but I think to me the most remarkable thing is her focus on the big picture," Dr. Watts added. "She mentors, trains, and leads so that our patients all receive the best quality of care that they can. And her deep listening, empathy, leadership, and most of all, her integrity, have made such a deep mark on our profession."
In the Zoom meeting were several past recipients of the J. Scott Heatherington DO Lifetime Achievement Award, along with friends and colleagues Dr. Crone has met as a medical student, resident, clinician, and WesternU administrator and faculty member.
"I feel incredibly blessed to be an osteopathic physician. I feel incredibly blessed to have had the opportunities that I've had in my life because of that education and because of the opportunity to work with each and every one of you in all those different stages of my life," Dr. Crone said. "Thank you from the bottom of my heart."
She added a special message to her husband, Paul Aversano, DO, "who has made my life so special. The two of us, together, have the opportunity to do so many great things together and I'm looking forward to everything that is still to come. Hopefully a lifetime achievement award doesn't mean that there is still not more ahead. Looking forward to everything that's coming after this. I'm very grateful to the Foundation, and then to all of you for your friendship, your support, and your love. Thank you everybody."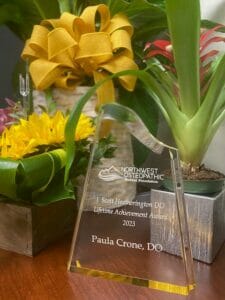 Prior to her appointment as WesternU provost, Dr. Crone served as Dean of the College of Osteopathic Medicine of the Pacific (COMP) in Pomona, California and COMP-Northwest in Lebanon, Oregon, from September 2013 until April 2022. Dr. Crone served as Interim Dean of COMP and COMP-Northwest from July 2012 to September 2013 and as Executive Associate Dean of COMP-Northwest from July 2010 until December 2012.
Dr. Crone helped launch WesternU's COMP-Northwest, the first new medical school in Oregon in over a century. Dr. Crone led the COMP-Northwest project from its earliest inception to a now-thriving osteopathic physician training and education program.
Prior to joining WesternU, Dr. Crone was a respected family practitioner in Oregon, serving as partner in private practice and as the Program Director of the Family Practice Residency Program at Eastmoreland Hospital in Portland, Oregon. She is a graduate of the COMP Class of 1992.
The award is presented in honor of J. Scott Heatherington, DO, the first physician from Oregon to become President of the American Osteopathic Association (1969) and former President of the Osteopathic Physicians and Surgeons of Oregon (1952-53). He was also the Founding President of the Northwest Osteopathic Medical Foundation (1986-1987), according to the Foundation. Dr. Crone was selected as the first Rising Star recipient from the Foundation and is now the first to receive both the Rising Star and the "Scotty" awards.
"Scott was a mentor. He taught me so much as a student and as a resident and my first few years of practice before he passed on," Dr. Crone said. "I will never forget those lessons and to receive an award with his name on it means so much."
Among the many well-wishers in the meeting was WesternU President Robin Farias-Eisner, MD, PhD, MBA, who praised Dr. Crone for partnering with him in moving the University forward.
"Her initiative, her loyalty, and her commitment and dedication to the ethos of the University, to our campuses, to the Pacific Northwest, and to our trajectory for the University is unparalleled and unmatched, and I feel very blessed as the president to be partnered with such an extraordinary individual, one who truly is aligned behind the mission," Dr. Farias-Eisner said. "So I want to thank you, Dr. Crone, for your continued commitment, dedication, loyalty, and to the humanism that you live every day."
Dr. Crone thanked the giants of the profession who came before her, her WesternU family, and the students and residents who she had the good fortune to be part of their careers. She also provided an inspirational message about the next generation of healers.
"As all of you know, it's a complicated world out there. It's a hard world. But I have so much hope for the future because of the students that I see coming through our DO program, our PA program, our PT program, all of our programs at WesternU," Dr. Crone said. "This generation of learners that want to go out and care for their patients now are doing it for the right reasons and with a lot of heart. They give me hope that our future will be in good hands. It isn't easy, but I have every confidence that they're going to make it better for all of us."