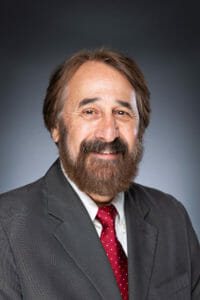 Western University of Health Sciences Senior Vice President and Provost David Baron, DO, MSEd, was recently elected chair of the American Psychiatric Association (APA) Caucus on Global Mental Health and Psychiatry.
Dr. Baron also serves as the chair of the World Psychiatric Association Section on Psychiatry, Medicine, and Primary Care. His goal with both organizations is to expand mentorship programs to develop and promote the next generation of mental health care providers and leaders. Several WesternU students are active in the two organizations.
"We are focusing on reaching out to students and trainees on a global level to create a robust mentorship program," Baron said. "That's the big theme. This is our future. It's really important to get the next generation trained early on so we can expand capacity in an interdisciplinary, collaborative way."
Baron wants to work with lower- and middle-income countries that have nowhere near the resources the U.S. has to create formal and informal mentorship programs and train the next generation of educators and leaders.
"Now is the time we can start to make headway to improve the quality and quantity of life at a global level," Baron said.
One project he is working on is to train students from multiple health care disciplines, including physical therapy, dentistry, nursing and podiatry in addition to medicine, in mental health and behavioral health care.
"All health care providers should be part of this effort," Baron said. "It should not be fragmented where behavioral health is isolated."
While the death toll from the COVID-19 pandemic is immediately measurable and massive, the pandemic's toll on mental health and well-being will likely be felt for many years to come. Stress and depressed mood along with substance abuse have dramatically increased in the past year, Baron said.
"The greatest impact on a long-term basis is the stress associated with maintaining mental health in times of crisis," he said. "COVID-19 has shown us in no uncertain terms what it means as humans to feel disconnected and isolated. It really demonstrated in very stark terms the stress resulting from the sense of not being in control. Am I going to get sick? Is it safe to go to the grocery store? Am I going to be laid off from work? Will I be able to graduate? All of these things affect our physical and mental health. COVID-19 has created a global stressor. People of all ages and all backgrounds from all around the world experienced the same sense of not being in control. We all lived it."
Categories: