WesternU provides interprofessional training to KPSOM, USC students
February 8, 2023
Read 1 mins
Western University of Health Sciences is collaborating with Kaiser Permanente Bernard J. Tyson School of Medicine (KPSOM) and the University of Southern California (USC) Alfred E. Mann School of Pharmacy and Pharmaceutical Sciences to provide interprofessional education to students at all three institutions.
WesternU hosted a hands-on workshop on Jan. 30, 2023 for KPSOM, USC, and WesternU students in Pomona, California. About 70 KPSOM and USC students and 24 faculty visited WesternU. About 150 WesternU College of Graduate Nursing (CGN), College of Health Sciences (CHS), and College of Optometry (CO) students assisted with the various learning stations and also participated in the various stations.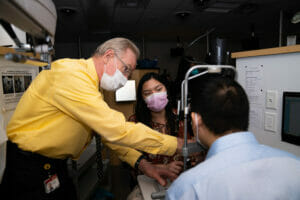 WesternU College of Optometry students and faculty demonstrated how to measure intraocular pressure and how to use slit lamps to examine the eyelid, cornea and iris. CHS Doctor of Physical Therapy students and faculty demonstrated fall risk assessments. CGN focused students' learning on how to work within an interprofessional team structure to improve patient care.
The interprofessional collaboration between the three institutions started about five years ago with the opening of KPSOM in Pasadena, California. KPSOM was looking for nursing schools in Southern California to collaborate on inteprofessional education, and WesternU College of Graduate Nursing Dean Mary Lopez, PhD, MSN, RN, agreed to partner with the new medical school and with USC. Students from the three institutions visit each campus for interprofessional learning, typically encounters with standardized patients.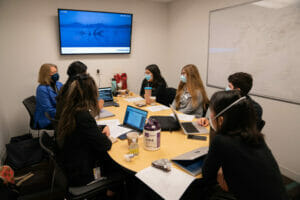 "The more physicians, nurses and pharmacists learn together, the more they can team together when they get their first jobs. It really impacts how physicians are being taught in their relationships with their perspectives of nursing and pharmacy," Lopez said. "I'm thrilled that PT and Optometry are part of this. When schools in higher education collaborate together, they make a greater impact on student knowledge and improve health care in the community."
This interprofessional collaboration has also opened doors for WesternU, Kaiser Permanente and USC to do more projects together. CGN students and faculty recently partnered with USC to provide free health services at a health fair in Glendale.
WesternU DPT students appreciated the opportunity to participate in the IPE experience with students from other professions including nursing, pharmacy and medicine, said WesternU CHS Department of Physical Therapy Education Chair Harsha Deoghare, PT, PhD. DPT faculty members Dr. Jeff Fairley and Dr. Laura Murphy developed and facilitated the lPE experience.
"They enjoyed learning what other professions focus on and how other professions address the various components of care. This leadership-themed experience also helped them identify opportunities for leadership in interprofessional teams, especially in the area of fall prevention screening and referral as well as assistive device use," Deoghare said. "The facilitated as well as informal interactions fostered a deeper understanding of perspectives from all professions as well as the need for effective communication across professions. They enjoyed the challenge of translating their knowledge of PT and their PT language into a language that can be understood by everyone in the group. They left with an appreciation of the interconnectedness of patient care and the importance of collaboration."
It's good to see what other professions are doing, said second-year USC pharmacy student Kaitlyn Yang.
"This is really cool and interesting. It's also a good opportunity to learn about other schools and other professions and how they learn," Yang said. "If we are sticking to only one school, then we only know USC. If we know more about WesternU and Kaiser, there is more branching out."
According to the World Health Organization (WHO), IPE is an experience that "occurs when students from two or more professional learn about, from, and with each other," said College of Optometry Associate Professor Jasmine Wong Yumori, OD, FAAO, Dipl AAO, who also serves as the WesternU Interim Director of Interprofessional Practice and Education.
"It was exciting to have the opportunity to not only have these five different professions coming together but furthermore to recognize that it was an inter-institutional collaboration involving our three institutions," she said. "We know that by providing these future health care providers the space and opportunity to come together and achieve this definition of IPE, they'll be more comfortable and competent to collaborate while caring for patients and are looking forward to growing these opportunities to engage our students and optimize patient care."