A vital part of osteopathic medical students' education is understanding how the body's systems are interconnected and how each one affects the others. For the past year, Western University of Health Sciences College of Osteopathic Medicine of the Pacific (COMP) students were limited in their ability to get hands-on training due to COVID-19 restrictions.
WesternU developed a unique, 30,000-square-foot "classroom" at Fairplex in Pomona, California to ensure COMP and College of Podiatric Medicine students would get hands-on training in a safe, socially-distanced environment. Students began utilizing the Fairplex space in January.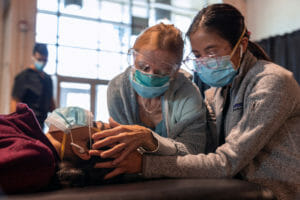 "It's exciting to be back in person after almost a year of online learning," said second-year COMP student Bisma Khwaja. "To be able to refresh our skills is really exciting. We haven't practiced OMT (Osteopathic Manipulative Treatment) in a really long time."
It's also really exciting seeing classmates she hasn't seen in person in a year, Khwaja said.
"Visiting with classmates, getting to catch up. Everyone was really excited to be back because hands-on learning is such an important part of our medical school experience," she said. "It's a social experience as well, having the support of other students around instead of studying by ourselves. This just reminds ourselves we are all in this together, learning from one another. That part is really nice."
This unique experience required a lot of coordination. WesternU Facilities set up the room and moved equipment from campus. WesternU Information Technology set up video screens and cameras in the massive exhibit hall so faculty members can provide instruction and guidance even if they are not in the students' sightline. Staff and faculty from COMP and CPM were on hand each day to handle the student screening process and to assist in ensuring that WesternU Coronavirus Response Team (CRT) and County/CDC guidelines were met and followed before anyone even walked in the door. Students watched the screens and listened to the instruction via their iPads and headphones/earbuds. Osteopathic Manipulative Medicine (OMM) Fellows, Teaching Assistants and faculty members walked among the socially-distanced OMM tables to provide hands-on assistance.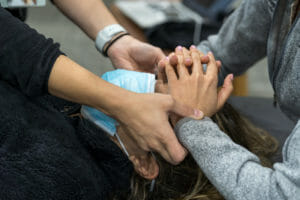 "This has been a huge opportunity for the students to connect with each other, seeing their classmates for the first time but also connecting with their faculty and Fellows and TAs and knowing that people are there literally with their hands over hands ready to help them and guide them," said COMP Neuromusculoskeletal Medicine/Osteopathic Manipulative Medicine (NMM/OMM) Chair Rebecca Giusti, DO '03. "This is what they've been missing. You can do Zoom and try to palpate articular pillars, but it really means nothing until you get down to where you have a patient in front of you and are able to accomplish that with somebody who really cares about your osteopathic medical training there to assist you with hands over hands, finding that somatic dysfunction, guiding you through a treatment. And then you see that change and the patient says, 'That actually felt better.' That's huge."
For any physician, but especially for osteopathic physicians, developing these hands-on skills are essential, Giusti said.
"This is not something that can be done over Zoom," she said. "This is something for patient safety and patient protection. It's the skills that are needed not only to do physical examinations such as listening to the lungs and heart, and all the skills that go into handling your instruments but also handling your hands and how you are able to diagnose somatic dysfunction, which is distinctive to the osteopathic profession, as well as providing osteopathic manipulative treatment, which can change the lives of so many of our patients. Gaining the confidence in these skills, having the time to practice is essential and we're so grateful to have this space dedicated to really allowing the students to have this really important component of their curriculum."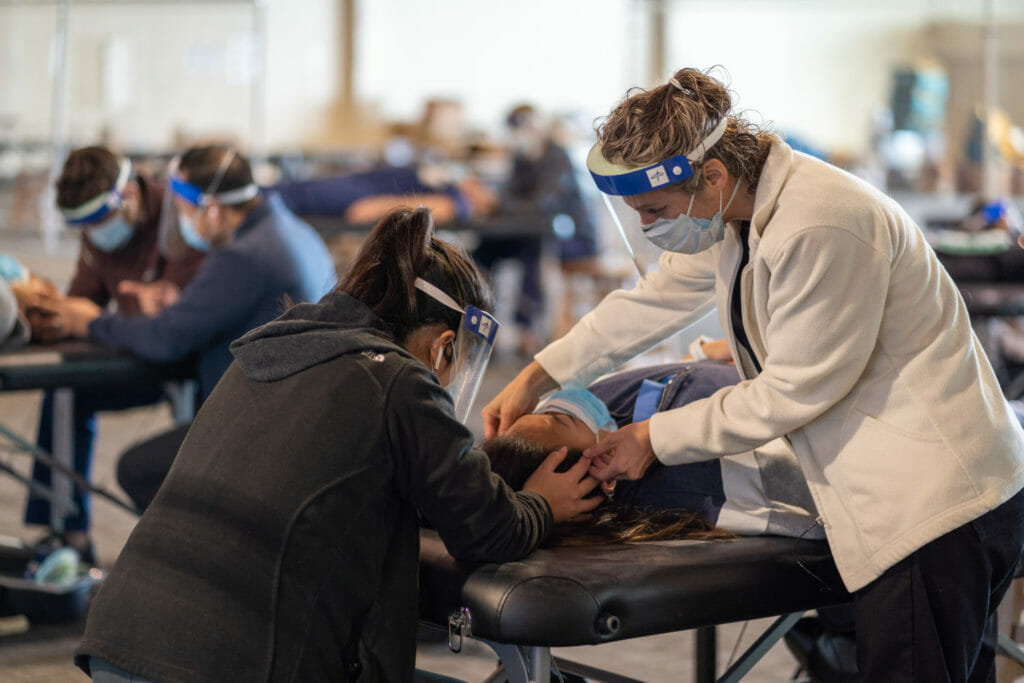 Third-year COMP students Ario Ramezani and Aysha Arshad got some extra OMM time at Fairplex during their core OMM rotation. The Pomona campus switched to remote learning due to the pandemic before their class learned cranial techniques, so this provided valuable hands-on instruction time.
"For OMM, it's important to know where your hand placement should be, where you should be palpating," Arshad said. "If you're learning online you might not do it correctly. The faculty is here to answer questions and guide us in even the smallest steps."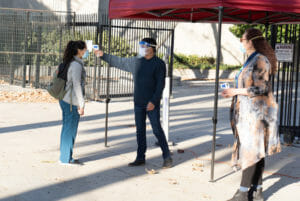 Prior to entering Fairplex, students go through a temperature screening, daily self-check and some are selected for rapid antigen testing, all done in an effort to help prevent potential spread of COVID-19.
All students and faculty wear personal protective equipment (PPE), including masks, gowns and face shields, similar to a clinical environment. Students are paired up and remain together throughout these sessions, minimizing mixing with the larger group.
"This is a huge team effort," said COMP Vice Dean for Academic Affairs Gerald R. Thrush, PhD. "Faculty delivering curriculum are from the Family Medicine and OMM departments. Outside the building, temperature screenings are done by faculty and staff from COMP and CPM. It's a collaboration between the two colleges to help this process run smoothly. We recognized very early on that students had to feel safe going into this site."
The social distancing necessary in a pandemic environment made space a challenge for this part of our students' curriculum, said University spokesman Jeff Keating.
"We typically handle it on campus, but simply don't have the space necessary to properly socially distance hundreds of students in the same place at the same time for this kind of activity," Keating said. "Fortunately, Fairplex is in our backyard. It was the first place that came to mind, not only because of its size but also because of WesternU's event history there and our longstanding relationships with its staff. We knew they would work with us to make this happen. Keeping the training in Pomona while sending some business Fairplex's way during a tough economic time were important factors, as well."
The Sheraton Fairplex Hotel & Conference Center staff is thrilled to partner with our WesternU friends, said Sheraton Fairplex Hotel & Conference Center Director of Sales & Marketing Mark Podolski. Fairplex has hosted WesternU's Convocation and white coat ceremonies and other events through the years.
"It has been inspiring for our Sheraton and Fairplex teams to observe the training of many great future leaders in medicine," Podolski said. "You should be proud of your event coordination team for their excellent communications, from planning to operations. This includes enthusiastically embracing and executing a wide range of COVID-19 mitigation protocols. Best wishes for health and success ahead from the Sheraton Fairplex Hotel team to all the associates of WesternU."
A massive amount of planning led up to this, with a lot of input from WesternU's Coronavirus Response Team and Student-Employee Health, said COMP Associate Professor Hendrik Szurmant, PhD. WesternU also did not start classes immediately after winter break, which provided time for students to quarantine if they traveled during the break and allowing for contract tracing. Students were kept informed about COMP's plans at Fairplex as it developed.
"We could sense quite some anxiety in a certain percentage of the class whether this is the right thing to do," Szurmant said. "I think that anxiety has completely disappeared as the roll out was as smooth as it was. At this point, we don't see sense any of that anxiety anymore."
"It took lots of communication and openness," said COMP Vice Dean Edward Barnes, MD, FACP. "On the days they arrived, we made sure they got to see a presence of going through safety protocols."
Students had a lot of time to prepare going into this, so they already knew what to expect in terms of COVID-19 testing, said second-year COMP student Danvi Bui.
"When I came here, I thought it was very cool to see how everything was organized and laid out. I wasn't expecting to have so many precautions, but when I came here it felt really good to know that the faculty cared about our safety," she said. "It's nice to be learning the clinical skills I need to. I think for clinical medicine you can only do so much when you're through a screen. When you're feeling someone's abdomen, feeling what it's like to know this is what it's like to feel the liver or different organs of the body, I think you start connecting brain with hand motions and palpation. But once you're hands on it clicks so much more easily."