WesternU provides hands-on learning at Fairplex STEAM Fair
March 6, 2020
Read 4 mins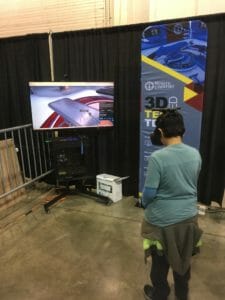 Young visitors to the second annual STEA2M Fair at Fairplex in Pomona, California on Friday, March 6, 2020, used 3D pens to draw "ligaments" on "elbows," stepped inside a virtual operating room, and learned how to manipulate a self-guiding car thanks to Western University of Health Sciences.
WesternU is a sponsor of the STEA2M Fair, which brought thousands of K-12 students to Fairplex to learn about science, technology, engineering, art, agriculture and math. The fair was open to school field trips on Friday and will welcome the general public on March 7, with an expected attendance of 25,000.
WesternU had multiple stations that featured several hands-on activities. The Center for Excellence in Teaching and Learning (CETL) 3D Educational Technology station allowed students to put on a virtual reality headset to look at the inner workings of a heart and to pick up surgical tools in a virtual operating room.
At another station, children drew "ligaments" on a 3D-printed elbow with help from College of Osteopathic Medicine of the Pacific (COMP) students.
"It's nice to see kids get excited about science," said first-year COMP student Zade Zahlan.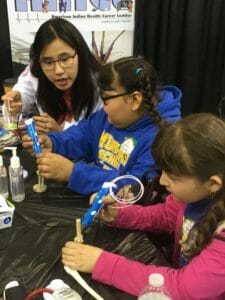 WesternU has a more interactive approach than some of the other exhibitors, said first-year COMP student Hana Hadiprodjo.
"If we were just talking to them, they might not be as interested. Young kids are more hands-on. They like to see things happen in real time," Hadiprodjo said. "It's really cool. These kids are actually learning high-level information very quickly."
College of Health Sciences students in the Physician Assistant Education program demonstrated the inner workings of the body with 3D printed bones and a small anatomy model with removable organs. First-year PA student Natasha Granneman and Assistant Teacher Oscar Norona, PA-C, had students listen to the heart and lung sounds of a Student Auscultation Manikin (SAM) using a stethoscope. They then listened to their own heartbeat.
"I like how they're really into it," Granneman said. "Their faces are so excited when they finally hear their heart."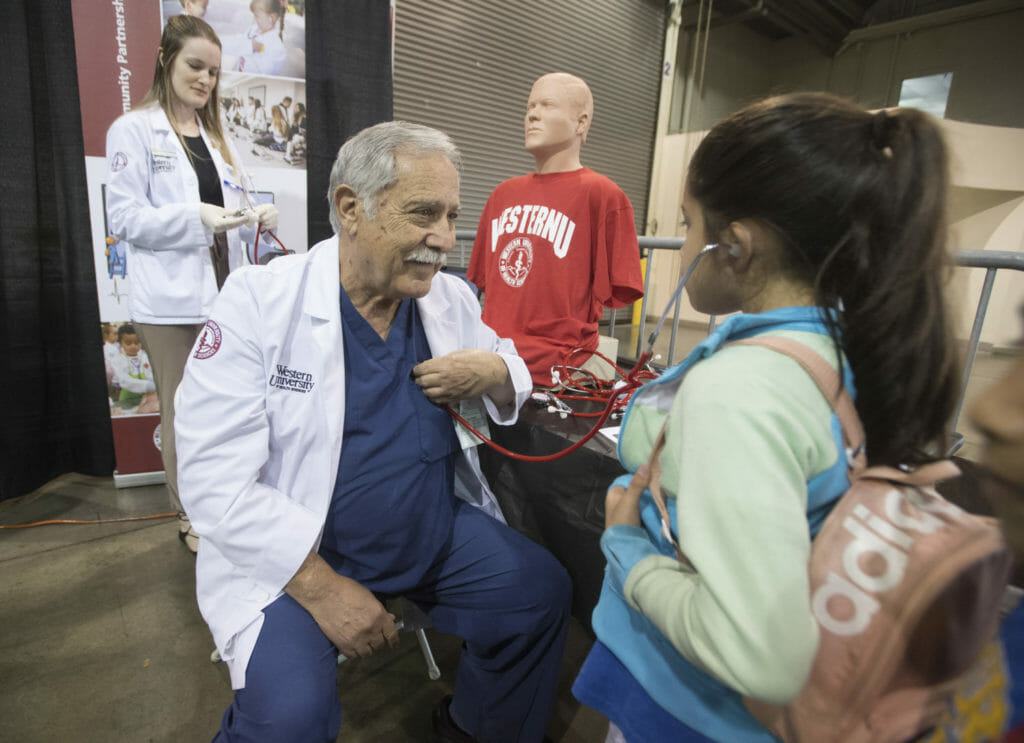 WesternU's Department of Strategic Alliances and Office of the Chief of Community and Government Affairs helped coordinate and facilitate the University's involvement in the fair.
The WesternU Center for Innovation (CFI) drew long lines, as did all of the WesternU stations, for their activities. First, students built models with Hanz Moto blocks. CFI also had multiple self-driving cars that used sensors to detect when obstacles were in front of them. The students tried to block the sensors so the cars would turn in different directions.
"The goal of this is to teach kids what digital sensors are, how they are used in our society, and how their lives have been affected by digital sensors," said CFI Executive Director Miary Andriamiarisoa, EdD. "And they are having fun while they are learning."
Patricia McMahon, a kindergarten teacher at Sacred Heart School in Covina, California, helped her students with the cars. This is the school's first time at the STEA2M Fair, and the experience was worthwhile, she said.
"They are having a better time with the (activities where) they are able to have more hands-on experiences instead of sitting and watching," she said. "We're having a great time."
Click here to visit Fairplex's STEA2M Fair website.