WesternU professor sparks children's interest in science through an interactive comic book
March 4, 2019
Read 2 mins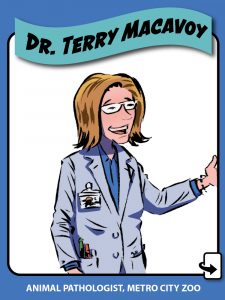 Like any good superhero, Dr. Tracey McNamara has an alternate identity in comic book form.
By day, she is a Western University of Health Sciences College of Veterinary Medicine professor. In the interactive, web-based comic book Transmissions: Gone Viral, released March 4, 2019, she's Dr. Terry Macavoy, animal pathologist at the Metro City Zoo. She helps a group of inquisitive children investigate a virus plaguing animals and humans in their neighborhood.
The comic book, which is available for free online at nysci.org/transmissions, is designed to appeal to middle school students and teach them about evolutionary principals of biology and homology (similar biological structures between different organisms), and that all animals, including humans, are related and can share diseases. They will also understand the scientific process of sorting evidence, finding patterns, forming hypotheses, and using scientific tests to confirm their theories.
"It was gratifying to be part of this effort," McNamara said. "Children can be intimidated by science but what they don't realize is how incredibly exciting and fun it is! This interactive comic book captures the thrill of the hunt for answers and I hope it turns kids onto science!"
The New York Hall of Science (NYSCI) received grant funding from the Science Education Partnership Award, supported by the National Institutes of Health, for this project. The zoo scientist in Transmissions: Gone Viral was based on McNamara's instrumental role in helping to identify West Nile virus in 1999. McNamara served as an adviser and helped develop the Transmissions storyline.
"By focusing on a mystery that kids will want to solve, Transmissions takes the science inquiry process out of the textbook and makes it concrete," said Martin Weiss, senior scientist for NYSCI. "In the process, kids will not only learn about evolution and zoonotic diseases, but they will also learn what it takes to be a scientist: curiosity, persistence and an open mind."
Transmissions: Gone Viral was the result of years of research and work by a number of NYSCI staff members, including Weiss and Creative Producer Geralyn Abinader. NYSCI created the digital comic book with the help of writer Karen de Seve of Creative Content Studio and comic artist Charlie LaGreca. Transmissions was developed by Blue Telescope. 
Images for Media Use can be downloaded from the New York Hall of Science Flickr site at https://flic.kr/s/aHsmB9Gmd2
Click here to read the New York Hall of Science's press release: https://nysci.org/teaching-science-with-a-comic-book/
Click here to read "Crows falling from the sky," a blog post that provides additional background on Dr. McNamara's role in identifying West Nile virus in New York City in 1999: https://nysci.org/crows-falling-from-the-sky/
Categories: