WesternU professor provides inside perspective of COVID-19 vaccine trial results
Western University of Health Sciences College of Pharmacy Associate Professor David J. Sanchez, PhD, participated in Moderna's Phase 3 study of mRNA-1273, its vaccine candidate against COVID-19.
On Nov. 16, in a race to find COVID-19 vaccines, Moderna was the second company to announce promising interim results from their clinical trial of NIH-Moderna COVID-19 vaccine, stating it meets its primary efficacy endpoint in the first interim analysis of the Phase 3 COVE study and an efficacy rate of more than 94%.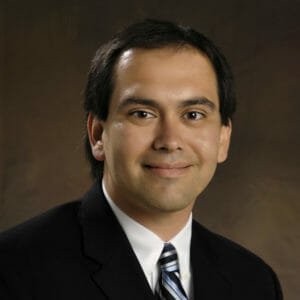 On Nov. 9, Pfizer announced preliminary data indicating that their COVID-19 vaccine was more than 90% effective and on Nov. 23 AstraZeneca announced that a preliminary analysis of their Phase 3 trial revealed the vaccine was up to 90% effective, depending on the dosage.
 Sanchez signed up for the trial in September 2020 and received two injections, separated a month apart, and was tracked for possible exposure and COVID-19 symptoms regularly.
He said he wanted to help move the process along and participate because he knew Moderna needed 30,000 people for this latest phase of clinical trials. Sanchez felt some minor side effects from the shots, so he believes he received a real vaccine.
"I teach vaccination mechanisms, so to see a possible vaccine in real life and get to know that my participation would help determine the efficacy of the drug was exciting," Sanchez said. "The process turned the way we talk about clinical trial setups to students into firsthand experiences."
The announcement from Moderna was exciting to Sanchez personally and for society.
"I am excited to imagine a vaccine that is that effective, "Sanchez said. "We think that most influenza vaccines are at most 60% effective so to see about 95% effectiveness of a vaccine is great."
Sanchez would like to see a return to pre-COVID-19 society as soon as possible and he says the key to that is a strong vaccination program.
"There are some differences between the storage conditions with different vaccines, which should be part of the decisions for particular sites, but for the overall population more choices allow for more distribution," Sanchez said. "At this point our society wants distribution of vaccines and since they all seem to have strong efficacy they will definitely help."
He also says about 50% of Americans want a vaccine and to counter that, highly effective vaccines will help to protect us.
"For our students, especially those that can administer vaccinations, they are going to see this is a major part of their training for the next couple of years as they help the health of our community," he said. "It will be great to see them as part of the solutions for our community."
Sanchez said pharmacy student interns often administer influenza vaccinations and believes that administering of the COVID-19 vaccines may be added to their training.
"I am hopeful that we can get the vaccine distribution going when approved and rapidly help control COVID-19," Sanchez said.