WesternU Physician Assistant Class of 2017 earns 100 percent pass rate on boards
November 2, 2017
Read 2 mins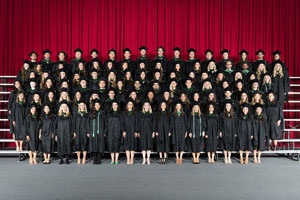 The Western University of Health Sciences Physician Assistant Class of 2017 achieved a 100 percent pass rate on the Physician Assistant National Certifying Examination (PANCE). All 96 students in the Class of 2017 passed their first time taking the test, which is a first for WesternU's PA program, which is part of the College of Allied Health Professions.
"We are so proud of our students and faculty. It takes an academic team to achieve this type of success," said College of Allied Health Professions Dean Stephanie Bowlin, EdD, PA, DFAAPA. "During the College orientation, students are told that the old saying of 'look to your left and look to your right and one of your classmates will not be here' does not apply at WesternU. With a 100 percent retention rate and 100 percent pass rate, our faculty work with our students very closely to help ensure their success."
Passing PANCE is required of all PA graduates in order to practice medicine. Students in recent years have benefited from a number of study and review programs provided by WesternU and state grant funds, said Department of Physician Assistant Education Chair Roy Guizado, MS, PA-C, DFAAPA.
WesternU sponsors a review program called PA Easy, available at WesternU's Pumerantz Library. The PA program used Song-Brown Program grant funds for the Kaplan Q&A bank and the Pack Rat Exam, which help students review different body systems and provides them with an assessment guide to determine areas of weaknesses to improve upon.
Song-Brown funds also pay for end-of-rotation exams through the Physician Assistant Education Association. This standardized exam after primary care rotations gives students valuable experience in answering questions similar to what they will see taking PANCE.
California created the Song-Brown Program in 1973 to increase the number of family practitioners providing needed medical services to California residents.
Guizado also credited the PA faculty for their expertise in teaching and reviewing medical concepts to PA students during the first and second years of the curriculum.
"We have a really good curriculum," Guizado said. "We have stellar faculty who provide a strong foundation of medical knowledge to students. You couldn't get through the review programs without having that fundamental foundation provided by the faculty."
Categories: