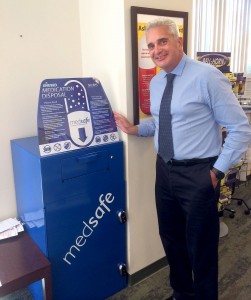 The public is invited to bring unused or outdated medications to the Pharmacy at Western University of Health Sciences for proper disposal.
The Pharmacy, on the first floor of WesternU's Patient Care Center (PCC), 795 E. Second St., Pomona, California 91766, has a secure dropbox where visitors can place non-controlled medications. No illegal drugs and no liquid containers larger than 4 ounces will be accepted.
An estimated 250 million pounds of unused medications are improperly disposed of each year. By providing this service, the WesternU Pharmacy ensures unused medications are discarded in an environmentally friendly manner and are not abused or accidentally misused.
Pharmacy Director Rudolf Mireles, PharmD, said he decided to have the Pharmacy cover the cost of properly disposing of these drugs as a public service.
"It's expensive to destroy these medications," Dr. Mireles said. "Due to the fact that the university works closely with the community, we felt there was a need in the community to get medications off the street to prevent accidental ingestion and death."
The service is a throwback to the 1970s and '80s, when local pharmacies would accept discontinued drugs for disposal, Mireles said. Laws and regulations have changed, and most pharmacies no longer offer this service.
The dropbox has been in place for about a month, and the Pharmacy is receiving medications from Rancho Cucamonga, Chino Hills, Diamond Bar and many other cities, Mireles said.
"There must be a real need for this. People are coming all the way from Rancho Cucamonga to destroy medications," he said. "Think about how many pharmacies you pass coming from Rancho Cucamonga to the PCC."
College of Pharmacy student clubs have offered to help defer some of the disposal cost.
"The student body understands how important it is to get these medicines off the street. We have good pharmacists coming through the university," Mireles said. "We're in the health care profession. Return on investment is important, but sometimes you have to bite the bullet for the community. Getting medications out of houses prevents accidental ingestion by children or adults."
Categories: