WesternU osteopathic and podiatric medical students receive iPads
August 6, 2019
Read 3 mins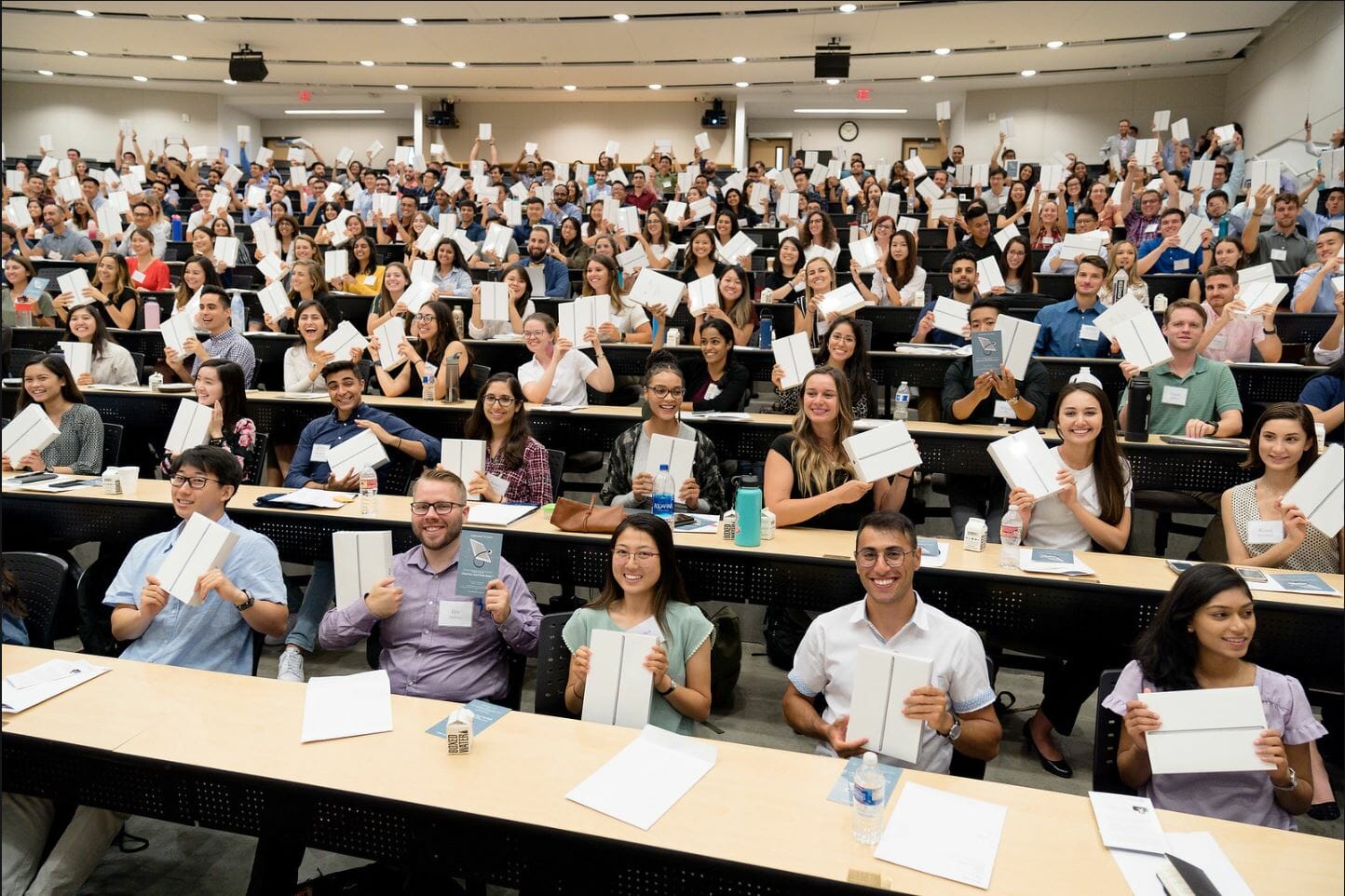 Western University of Health Sciences and two generous donors are ensuring the osteopathic and podiatric physicians and surgeons of tomorrow are equipped with technology that will keep them connected to the latest medical innovations and to each other and the University.
The College of Osteopathic Medicine of the Pacific (COMP) and the College of Podiatric Medicine (CPM) gave an iPad to every incoming student on the first day of Welcome Week, Monday, Aug. 5, 2019. Incoming WesternU-Oregon students in Lebanon, Oregon each received an iPad on July 30.
The iPads are a gift from the Heatherington Foundation for Innovation and Education in Health Care and an anonymous donor.
"We are really grateful for the donors that came forward to make this dream happen," said COMP Dean Paula Crone, DO '92. "We would never have been able to do this without the support of both donors. We are really blessed to have a support system and network that includes them, both of them having the vision of seeing what is possible for our students if we are able to give them the tools they need."
Distributing iPads to students will allow COMP and CPM to be on the same page with learning enhancement tools.
"Whereas before when they had different devices, some of them were not getting updated. It created an irregular experience," Crone said. "Now we are going to be able to create a uniform experience and support the experience a lot better."
Crone and CPM Dean V. Kathleen Satterfield, DPM, FACFAOM, are championing a communication app that will hopefully change the culture of communication so that faculty staff, students, residents, and alumni all have a better way of keeping in touch with each other, Crone said.
The third phase of this project will be transforming the iPad into a digital doctor's bag.
"We're partnering with WesternU's Center for Innovation to bring in plug-ins and apps that are being used in the clinical world today, and hopefully to be part of creating new plug-ins and apps that will be helpful in the clinical world to bring this from the iPad to the digital doctor's bag," Crone said.
"I can't say enough to thank Dean Crone for including our students in this," Satterfield said. "That was such a wonderful gift. The idea of a digital doctor's bag is so incredible because they can do so many things with that technology now."
The iPads were a welcome surprise to incoming students. First-year COMP student Ariel Shafa said he had planned to buy an iPad or Surface next week.
"This blew me away. I'm very excited," he said. "Thank you to all the donors. It means a lot."
Incoming CPM student Derek Jackson said it is a big relief to receive the iPad as a gift instead of having to buy one.
"It just makes me appreciate this school and the donors much more," he said. "I will use it every day for a least eight to 10 to 24 hours. It's going to be my new resource."