Western University of Health Sciences is one of 12 institutions nationwide hosting a Summer Health Professions Education Program (SHPEP). Due to the COVID-19 pandemic, the program will be taught virtually through video conferencing.
WesternU SHPEP – in its fourth year running the program – is a free summer enrichment program encouraging students from financially disadvantaged families and groups underrepresented in medicine to enter health professions.
The program is switching to an online teaching format lasting four weeks instead of the traditional six weeks on campus. The opening ceremony is scheduled for June 20, 2020 and the completion ceremony is July 18.
WesternU faculty will teach 80 young men and women from across the country who are eager to jump-start their career in the health professions. WesternU students will be teachers' assistants.
The program provides opportunities for rising college sophomores and juniors interested in medicine, dental medicine, optometry and physical therapy.
WesternU received a grant from the Robert Wood Johnson Foundation to provide a summer enrichment program supporting students. This year the grant helped WesternU SHPEP coordinate loaner laptops for all participants in order to increase technology equity for successful completion of the program.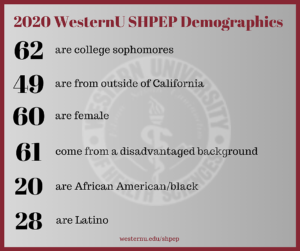 WesternU is committed to providing enriched online lectures and afternoon hands-on curriculum.
Three former WesternU Health Career Ladder students were accepted into the SHPEP program, continuing the pipeline to guide and promote local students through their education to careers as health care professionals.