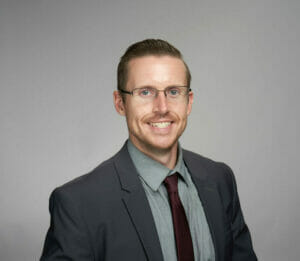 Western University of Health Sciences has selected Joshua McFarlen, CPA, CA, MPAcc, as its Chief Financial Officer (CFO) and Treasurer.
"The CFO role is critical to WesternU as we realign resources to effectively support institutional strategy, the academic enterprise, and student support," said WesternU President Robin Farias-Eisner, MD, PhD, MBA. "Josh has established his dedication to balancing the multiple – and sometimes competing – budgetary demands. His commitment to student, faculty, and staff success is paramount."
McFarlen joined WesternU in July 2018 as Vice President for Finance and served as Interim CFO and Treasurer since April 2021. He was selected as CFO and Treasurer, effective Dec. 31, 2022, following a national search conducted by WittKiefer and led by a WesternU search committee chaired by WesternU Associate Vice President of IT and Deputy Chief Operating Officer Denise Cornish, DBA, MBA. McFarlen will report directly to the President and the Board of Trustees.
McFarlen was selected from a strong candidate pool. He stood out with his experience, knowledge, and his understanding of the unique nature of academia and the complexity of postgraduate health care education in a post-pandemic world, said WesternU Provost Paula M. Crone, DO '92.
"It is a pleasure to work with Mr. McFarlen," Crone said. "His leadership skill, financial acumen and integrity, determination to see WesternU be our very best, and his vision for our University to achieve its mission make him ideally suited for this role."
McFarlen earned a bachelor's degree in accounting and finance from the University of Regina and a master's degree in accounting from the University of Saskatchewan. He is an active, licensed Certified Public Accountant in California and Canada. He began his career in the audit practice of Big 4 public accounting firm KPMG, then served as a Financial Administrative Officer as well as in the Controller's Office at the University of Saskatchewan. He also spent time in a CFO role in private financial services prior to joining WesternU.
"I am sincerely honored to be selected to serve WesternU in the role of CFO and Treasurer. It is my pleasure to have the opportunity to lead our institution forward in a collaborative and conscientious manner and to ensure we secure the brightest future possible for our students and all our highly valued constituents," McFarlen said. "Thank you very much, WesternU, for your collaborative support, and I am very excited about what we can do together to move the University forward."
Categories: