WesternU names first Vice President for Humanism, Equity, and Anti-Racism
September 2, 2021
Read 2 mins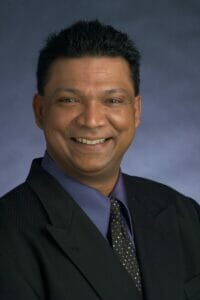 After a national search, Western University of Health Sciences (WesternU) has appointed Suresh Appavoo, EdD, as its first Vice President for Humanism, Equity, and Anti-Racism, reporting directly to the president and serving as senior administrative leadership. Appavoo brings more than 30 years' experience in higher education leading Diversity, Equity, Inclusion (DEI) and Anti-Racist initiatives, plans and programs. He starts his new position on November 1, 2021.
Appavoo most recently served as Senior Executive for Equity and Diversity/Title-IX Coordinator for Southern Oregon University in Ashland where he oversaw and led comprehensive diversity, equity, and inclusion planning, operations, implementation, evaluation, and monitoring for the institution. Prior to that, he served as Dean for Diversity and Equity at Dominican University of California in San Rafael where he conceptualized the "Equity and Inclusion Serving Institution" (EISI) model based on intersectionality as the vision and purpose for institutional transformation. He also successfully led, managed, and administered a $750,000 Campus Diversity Initiatives (CDI) grant to the university from The James Irvine Foundation. While at Dominican, he earned tenure as an associate professor of education and received the prestigious Fulbright Scholar Award to the Republic of the Maldives.
"It is an honor to welcome Dr. Appavoo to WesternU at this pivotal time in our history," said WesternU Interim President Sylvia Manning, PhD. "The establishment of this position and development of the Center for Humanism, Equity, and Anti-Racism are central to the continued evolution of WesternU's commitment to our humanistic mission. Dr. Appavoo brings the depth of education and experience to help us realize to the fullest our values of humanism, diversity, inclusion, equity and anti-racism."
Appavoo earned his Doctor of International and Multicultural Education (EdD) degree from the University of San Francisco, a Master of International Management from the American Graduate School of International Management, Glendale, Arizona, and a Bachelor of Science in Business Administration from the University of the Pacific, Stockton. His research and practice focus on intersectionality, transformative DEI leadership, and systemic change-agency in higher education.
"The core value of humanism and an institutional commitment to equity and anti-racism are  what drew me to this inaugural leadership role at WesternU," Appavoo said. "Based on the foundations built through the hard work of many here who came before me, I aspire to collaboratively engage the hearts, heads, and hands of our community and serve as a bridge between intentions and outcomes. I am inspired by the many people at WesternU who believe that we can be the change that we want to see. Echoing powerfully hopeful words from the Freedom Summer of 1964, I invite you all to 'Come, let us build a new world together' – a humanistic, equitable, anti-racist, and inclusive world at WesternU."
Categories: