WesternU names Dr. Andrea Giuffrida as Senior Vice President of Research and Biotechnology
September 27, 2023
Read 1 mins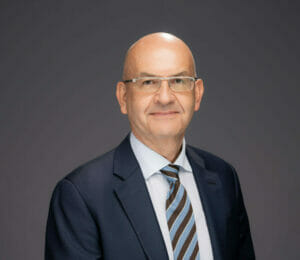 Western University of Health Sciences has appointed Andrea Giuffrida, PhD, MBA, as the Senior Vice President of Research & Biotechnology following an extensive national search.
Dr. Giuffrida brings a wealth of experience and expertise to this critical position. Most recently, he served as Vice President for Strategic Industry Ventures at the University of Texas Health Science Center at San Antonio (UTHSCSA) where he led the Office of Technology Commercialization, the TechNovum bioscience accelerator, and focused on growing their academic research enterprise through scholarship, entrepreneurship and innovation. He joined WesternU on Aug. 1, 2023.
Dr. Giuffrida received his PhD from the University of Catania in Italy in 1992 and earned his Executive MBA at the University of Texas San Antonio (UTSA) in 2022. Dr. Giuffrida has held numerous leadership positions throughout his career. After joining UTHSCSA and being promoted to Full Professor of pharmacology with tenure, he served as Director of Biomedical Research Development, Vice President for Research and Vice President for Strategic Industry Ventures. He also served on boards of several not-for-profit organizations and startup companies and coordinated successful fundraising that led to the creation of new research centers and the first biobank at UTHSCSA.
"His commitment to excellence, collaborative approach, and dedication to mentoring and supporting researchers makes him an excellent fit for our WesternU community," said WesternU Provost Paula M. Crone, DO '92. "As Senior Vice President of Research and Biotechnology, Dr. Giuffrida will work closely with our WesternU community to develop and implement a strategic research plan that aligns with our mission and priorities."
Dr. Giuffrida said taking on this role at WesternU serves as a natural progression in his career.
"I was looking for a place offering opportunities to build and shape the research enterprise through innovative ideas and input from faculty and senior leadership," Giuffrida said. "WesternU checked all the boxes. There is so much potential in terms of expanding the University training environment, building high-impact research, and connecting diverse stakeholders through interdisciplinary collaborations."
Giuffrida plans to build research capacity at WesternU through investments in research infrastructure and training programs, creating centers of excellence in biosciences and biotechnologies, growing clinical research, and promoting private/public partnerships aligned with emerging national and international research priorities. He also plans to work closely with leaders across the University to assess existing institutional policies, develop a research space master plan and identify future needs to drive innovation.
"At the end of the day, it's all about building a winning culture, a culture that is research friendly and that fosters open dialogue, diversity and transparency," Giuffrida said. "My four core values are: listen, connect, execute and celebrate success!"
Giuffrida is also interested in forging strong relationships with other universities in the area and building pipeline programs to provide opportunities for high school students to intern in WesternU labs.
"It's a win-win scenario. By encouraging young minds to engage in hands-on research experiences and develop a strong interest in scientific disciplines, we promote and reinforce their pursuit of careers in biosciences and health professions," Giuffrida said. "We can help shape the next generation of scientists and biomedical professionals."
WesternU has been extremely welcoming, and senior leadership is genuinely interested in building research at the University, Giuffrida said.
"I'm very excited about starting this new chapter of my life," he said.
Categories: