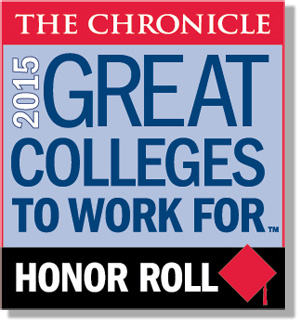 Western University of Health Sciences has been named a "Great College to Work For" by the Chronicle of Higher Education for the fourth consecutive year, and also made the Honor Roll for the second consecutive year.
WesternU was recognized in eight categories: Collaborative Governance, Compensation & Benefits, Confidence in Senior Leadership, Job Satisfaction, Professional/Career Development Programs, Respect and Appreciation, Teaching Environment, and Work/Life Balance.
"We appreciate receiving this honor again from The Chronicle, and are grateful for another opportunity to let the world know about all the good things happening at WesternU," said Philip Pumerantz, PhD, Founding President of Western University of Health Sciences. "What is most meaningful to me about being one of the Great Colleges, and on the Honor Roll, is that it happens because of what our own employees say about working here. We try to foster an environment that attracts and retains the best and brightest people, who enhance the institution and play essential roles in adding value for our students and our partners.
"I've always considered WesternU a great place to work, and could not be more pleased that so many of our employees think the same thing."
WesternU was one of 86 colleges and universities deemed a Great College to Work For, drawing from 281 participating institutions in 2015, including 185 four-year institutions and 96 two-year institutions.
WesternU is one of 42 institutions on the Honor Roll, which were recognized the most in their size categories.
The Chronicle's 2015 Great Colleges to Work For program recognizes small groups of colleges (based on enrollment size) for specific best practices and policies. Now in its eighth year, the Great Colleges program has become one of the largest and most respected workplace-recognition programs in the country.
"The Chronicle's Great Colleges to Work For program shows how the colleges and universities on the list are getting it right: They're leaders in creating environments where smart people enjoy their work," said Liz McMillen, The Chronicle of Higher Education editor. "The faculty and staff who make up our readership want to know which institutions are Great Colleges to Work For because many of them are either seeking to improve their own campus or are looking for that next great career opportunity. The selection process is rigorous, and being named to the list is a tremendous accomplishment, but it also positions colleges and universities well to recruit the people that make them a success."