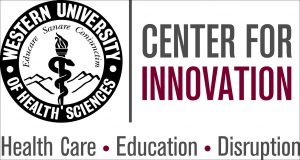 Western University of Health Sciences will host a special symposium and exhibition about future trends in health and education to launch the University's new Center for Innovation on Wednesday, September 6, 2017.
The symposium will be from noon to 1 p.m. in WesternU Health Education Center Lecture Hall 1, followed by a technology exhibition from 1 to 3 p.m. showcasing virtual reality education technology, high speed 3-D printing and scanning exhibits, augmented reality stations, the Microsoft Mixed-Reality platform – Hololens, and a gamification booth showing how game-based learning transforms passive learning into dynamic and engaging experiences.
The symposium will feature:
"Vision" by WesternU President Daniel R. Wilson, MD, PhD.
"The Center and its Essence" by Nicholas Webb, Center for Innovation Director.
"Engagement and Outcomes" by Miary Andriamiarisoa, Director of Education Technologies and Innovation at WesternU.
"Faculty and Innovation" by Steven Friedrichsen, DDS, Dean, College of Dental Medicine.
"College and Innovation" by Paula Crone, DO '92, Dean, College of Osteopathic Medicine of the Pacific.
"The Center's Journey" by Webb.
"Center Director Nicholas Webb is a person of remarkable conceptual and verbal fluency as well as an inventor, technology entrepreneur, health care futurist, international consultant and best-selling author," Wilson said. "In launching the Center, he and WesternU academic and technology leaders will discuss how our University will drive to further innovation and success."
The center will focus on future trends in health and education, exploring changes driven by economic, societal, political, technological and consumer forces and providing a wide range of resources to students, faculty and staff to drive innovation in Student Experience Design, Disruptive and Enterprise Innovation, and all manner of innovation within and beyond the University.
"The Center for Innovation is committed to driving collaboration and innovation across the University and throughout the entire health care ecosystem," Webb said. "We are excited to launch the Center for Innovation to expand on WesternU's rich legacy as an innovative University."
Webb will also be keynote speaker during the ninth annual Philip Pumerantz Distinguished Lectureship at 7 p.m. Thursday, September 7. This lecture will expand on innovation and technology discussions yielded by the Center for Innovation launch and exhibition.