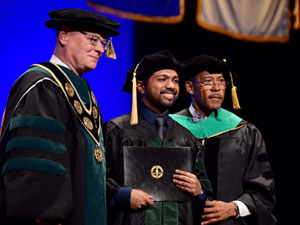 Western University of Health Sciences President Daniel R. Wilson, MD, PhD, presided over his first Commencement ceremony at the Pasadena Civic Auditorium in Pasadena, California May 17, 2017.
The College of Allied Health Professions conferred diplomas on 181 graduates in three disciplines: Doctor of Physical Therapy, Master of Science in Physician Assistant Studies and Master of Science in Health Sciences. The College of Podiatric Medicine celebrated 35 Doctor of Podiatric Medicine graduates.
Wilson told the graduates that they would leave the auditorium as health professionals, and this was no accident.
"You chose a life of compassionate, humanistic service to others. But never forget, this life also chose you. It was meant to be you who offers a kind word, an understanding ear, a healing touch. It was you who was chosen not just for your skilled hands, but for your caring heart. It was you upon whom great authority and responsibility is placed, to be exercised with dignity, humility and grace."
The morning ceremony was the first of five WesternU Commencement ceremonies in Pasadena that will run through Friday, May 19. WesternU's COMP-Northwest campus in Lebanon, Oregon, will graduate about 95 students on June 2, 2017.
WesternU will award 1,086 diplomas between the two campuses. At the conclusion of all Commencement ceremonies, WesternU will have more than 14,400 alumni.
College of Allied Health Professions Department of Physical Therapy Education graduate Brus Layson, DPT '17, said WesternU has done a good job preparing him for the workforce. He will return to Montana to work in outpatient orthopedics and sports medicine.
"I'll miss my friends," he said. "Despite moving far away and taking a job somewhere else, the friends I made here at this school will last a lifetime."
William E. Simon Jr., co-chairman of William E. Simon & Sons, gave the keynote address.
"I have spent a lot of my career in the investment business, where a lot people there think that wealth is health. But I'm here today ladies and gentlemen to tell you it's actually the opposite: Health is wealth," he said. "Good health is arguably the most valuable asset that any of us have."
In an effort to maintain good health, Simon and his wife set up a foundation named Sound Body, Sound Mind. The organization provides physical fitness equipment to more than 130 Los Angeles schools, impacting more than 125,000 students each day.
"We believe that everybody deserves to break a sweat," Simon said. "All of you graduates are going to have a chance to change people's lives for the better, either as you treat your patients or as you educate other health care professionals," he said. "I hope you will consider the positive influence you can have by making a point to encourage your clients and audience, the importance of physical activity.
WesternU honored College of Podiatric Medicine Founding Dean Lawrence Harkless, DPM, who will retire June 30, 2017 after spending the past 10 years launching and growing the college. CPM Executive Associate Dean for Academic Affairs Lester J. Jones, DPM, MS, will serve as interim dean while the university conducts a search for Harkless' successor.
Harkless will leave WesternU with a legacy of excellence and achievement very few members of the podiatric medicine profession have the opportunity to accomplish in a lifetime, Jones said.
"Let me say on behalf of a grateful student body, members of the faculty, staff and administration, we'd like to take this opportunity to thank you for your time, your experience, your expertise, the caring and compassionate way in which you conducted yourself and the leadership that you have given to this institution," Jones said.
Harkless said we must all remember to give and share because we are all instruments made by God to help others.
"As I watch one season come to an end I welcome the beginning of a new season and the journey ahead," Harkless said. "Wherever you are in life, don't be afraid to try new paths. I'm sure our paths will cross again."
Harkless is an enthusiastic and charismatic leader for the college and for the profession as a whole, said College of Podiatric Medicine graduate Israel Santander, DPM '17.
"We all feel like we had a personal relationship with him," Santander said. "We never felt the dean was in an office tucked away somewhere. In the most trying times, he was there to support us, to talk us up to residency directors, and to motivate us. He was always a great presence."
Click here for more information about the Pasadena Commencement ceremonies: http://commencement.westernu.edu/pomona/
Click here for more information about the Lebanon Commencement ceremony: http://commencement.westernu.edu/lebanon/