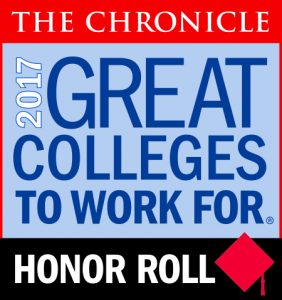 Western University of Health Sciences has been named a "Great College to Work For" by the Chronicle of Higher Education for the sixth consecutive year, and also made the Honor Roll for the fourth consecutive year.
WesternU, which has campuses in Pomona, California and Lebanon, Oregon, was recognized in seven categories: Collaborative Governance, Compensation & Benefits, Job Satisfaction, Professional/Career Development Programs, Respect & Appreciation, Teaching Environment (Faculty Only) and Tenure Clarity and Process (Faculty Only/4-year Only).
"WesternU is truly a special university. The largest array of graduate health science schools in America yet the culture of a closely knit liberal arts college," said WesternU President Daniel R. Wilson, MD, PhD. "Humanistic science is our bedrock on which we have grown a community of caring."
WesternU was one of 79 colleges and universities deemed a Great College to Work For, drawing from 232 participating institutions in 2017, including 155 four-year colleges and universities and 77 two-year colleges.
WesternU is one of only 10 institutions on the Honor Roll in the "Medium" category of enrollment between 3,000 and 9,999 students. WesternU's enrollment is about 3,800 students. Institutions on the Honor Roll were recognized the most in their size categories.
"Ten years in, the Great Colleges to Work For distinction is well-known by academic jobseekers as a sign that an institution's employees are valued and given opportunities for growth even when they face financial constraints," said Liz McMillen, editor of the Chronicle. "Any college or university that's on the list is showing that they emphasize one of their most valuable assets: their faculty and staff."
The assessment had two components: a questionnaire about institutional characteristics and a faculty/staff questionnaire about individuals' evaluations of their institutions. The assessment also included an analysis of demographic data and workplace policies, including benefits, at each participating college. The questionnaires were administered online. Click here to visit the Chronicle of Higher Education's website: http://www.chronicle.com/interactives/greatcolleges17