WesternU is a 'Great College to Work for' seven years running
July 16, 2018
Read 2 mins
Western University of Health Sciences has been named a "Great College to Work For" for the seventh consecutive year by The Chronicle of Higher Education, a top trade publication for colleges and universities.
WesternU, which has campuses in Pomona, California and Lebanon, Oregon, was recognized in the category "Compensation and Benefits." The results, released today, July 16, 2018, in The Chronicle's eleventh annual report on The Academic Workplace, are based on a survey of 253 colleges and universities.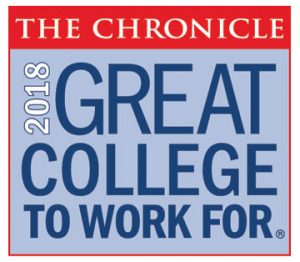 "To be recognized year after year as a 'Great College to Work For' highlights the WesternU mission: educating health professionals to become highly skilled, humanistic healers," said WesternU President Daniel R. Wilson, MD, PhD. "This foundational commitment to humanism and compassion encompasses all who learn and work at our University."
WesternU is one of 84 institutions recognized as a 2018 Great College to Work For, including 60 four-year institutions and 24 two-year institutions. This year, 165 four-year institutions and 88 two-year institutions participated in the survey.
To produce Great Colleges to Work For, The Chronicle collaborated with ModernThink, LLC, a strategic human capital consulting firm that has conducted numerous "Best Places to Work" programs, surveying hundreds of thousands of employees nationwide. The Great Colleges process was in two parts: a survey administered to faculty, administrators, and professional support staff, and an institutional audit that captured demographics and workplace policies and practices from each institution. Employee feedback was the primary factor in determining whether an institution received a Great College to Work For recognition.
"The Great Colleges to Work For distinction is well-known by academic jobseekers as a sign that an institution's employees are valued and given opportunities for growth even when they face financial constraints," said Liz McMillen, editor of The Chronicle. "Any college or university that's on the list is showing that they emphasize one of their most valuable assets: their faculty and staff."
Great Colleges to Work For is one of the largest and most comprehensive workplace studies in higher education. For more information and to view all the results of the survey, visit The Chronicle's website at https://www.chronicle.com/interactives/greatcolleges18.