WesternU introduces Pomona High School students to the health professions
Western University of Health Sciences welcomed 41 students from Pomona High School's AVID program on April 28, 2022.
College of Osteopathic Medicine of the Pacific students and College of Health Sciences Master of Science in Medical Sciences students, led by the Latino Medical Student Association (LMSA), served as mentors and teachers in showing the high school sophomores suturing techniques and anatomy, and sharing their personal journey to reach medical school.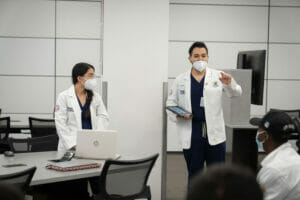 "As an organization, LMSA is really trying to figure out how to get more minorities into the health care professions," said COMP student and LMSA President Andrew Flores. "We realized it is important to start at a younger age, allowing honest exposure. We feel this is going to make a big difference. It's important to know we can empower you. We can give you knowledge. If we did it, you can too."
The event was organized by the Center for Academic Community Engagement (ACE), a unit of the WesternU Office of Mission Integration that connects WesternU student clubs, colleges and individual students with the community to support engagement in health and educational outreach activities.
"Our students are teaching high school students who are from the same backgrounds. Our students were also graduates of the AVID program," said WesternU Associate Provost, Associate Vice President for Academic Community Engagement and COMP Professor of Anatomy Elizabeth Rega, PhD. "Part of our partnership with Pomona High School is to make sure we're putting their students on the pathway to the health professions and health sciences because we are so proud to be a resource in the community."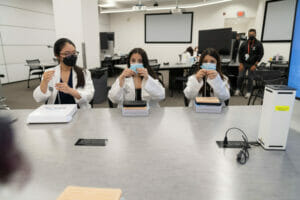 WesternU students gave the high school students tips on preparing for college, telling them to challenge themselves academically by taking such classes as AP biology and chemistry. They also talked about the negative effects of drug, tobacco and alcohol use. The students learned about anatomy and held a spinal cord, brainstem, skull and other parts of the body in their hands.
"My experience was very educational," said Pomona High School student Joseph Steele. "I learned how to do things that might open my eyes to new things, different possible courses I might take."
"The way they taught us and helped us, it was educational and inspiring," said Pomona High School student Jadyn Galbreth. "Everyone was nice. They did not have the same story, but they are all doing something they love and enjoy."
AVID helps students "in the middle" acquire the tools they need to get into college and succeed once they get there, said Pomona High School history and AVID teacher Arturo Molina.
"We teach them how to study and how to take notes," Molina said. "We take them to different campuses to see what college is like to try to give them exposure so they can see themselves in those schools."
This WesternU visit provided the opportunity for these students to go off campus and interact with people. "This is in our community. We want them to see all the cool stuff Pomona has to offer," Molina said. "We want them to see medical students who made really good decisions to get into medical school and realize at the end of the day, 'they are just like me.' We want them to see themselves in (WesternU students)."