Western University of Health Sciences President Daniel R. Wilson, MD, PhD, concludes his five-year service as president having made the University stronger, more nimble, and better prepared to handle a crisis.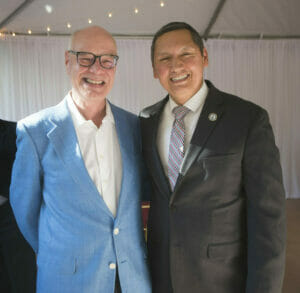 WesternU honored Dr. Wilson at a retirement dinner June 24, 2021 on its Pomona, California campus. Several dignitaries reflected on Wilson's contributions to the University and the communities it serves. Pomona Mayor Tim Sandoval presented a certificate of recognition to Wilson and thanked WesternU for administering vaccinations and supporting the city in many other ways.
"Everywhere I go in Pomona I always see Western University of Health Sciences students," Sandoval said. "This has been an incredibly challenging year and yet WesternU has continued to step up as an institution, most recently with vaccinations. Not just here but all over this city. Again I want to thank you for that."
Sandoval said he and Wilson started off around the same time. After Sandoval's election as mayor in 2016, Wilson was one of the first calls he received, Sandoval said.
"You and I have worked together over the last five years," Sandoval said. "I want to thank you for your leadership, particularly over this past year, which hasn't been easy for any of us."
Wilson also received certificates of recognition from the representatives of state Assemblyman Freddie Rodriguez, state Sen. Connie Leyva, and Los Angeles County Supervisor Hilda Solis.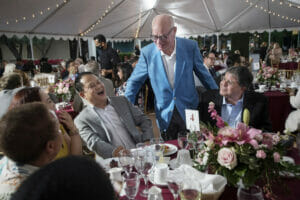 WesternU Chief of Community and Governmental Affairs Jeff Keating, MA, who served as the master of ceremonies, provided an overview of some of Wilson's accomplishments as president.
Wilson's leadership has resulted in an institutional accreditation of record length, dozens of international, national, and regional collaborations and partnerships that have vastly extended the University's reach and impact, development of a robust research operation garnering ever-growing amounts of government and private-sector support, and a visionary strategic plan that has professionally systemized University operations and has put WesternU on the soundest fiscal footing it has ever enjoyed.
Also, his leadership resulted in campus master plans for California and Oregon that look 30 years into the future and are already being made manifest through remodeling and space reallocation of the Pomona campus and, in Oregon, addition of the College of Health Sciences, which will welcome its first Doctor of Physical Therapy students to Lebanon next month and which will launch the University's first-ever Occupational Therapy program in 2022.
"Dr. Wilson's leadership was such that when the COVID-19 pandemic hit full force, the University was better prepared to handle it – operationally, academically, and financially – than would have been possible just a few years before," Keating said. "We certainly have had our share of challenges due to the pandemic, but especially given the serious difficulties many institutions of higher education are facing right now – the repercussions of which will be felt for years – Western University of Health Sciences has in many ways emerged stronger, more nimble, and even better equipped to handle a crisis. Dr. Wilson deserves abundant credit for this evolution and our fresh capacity."
WesternU Board of Trustees member and College of Osteopathic Medicine of the Pacific alumnus Richard Bond, DO '82, DrPH, said Wilson moved the University forward with fresh perspectives and fiduciary and technological advances.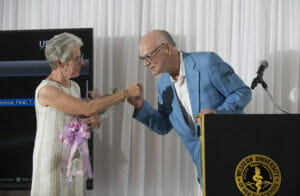 "In five years President Wilson has turned an already great university into an outstanding one. As an alum and a trustee I thank you for this," Bond said. "Additionally, I have found Dan and his wife, Sandy, to be kind and gentle people, with no ill will in either one of them. They will be sorely missed."
WesternU Senior Vice President and Provost David Baron, DO, MSEd, observed that Wilson is stepping down as president, but he will continue to serve the University.
"He's going to be here to help us grow, to share his wisdom, his international connections, and his knowledge of higher education and health sciences," Baron said. "He will continue to contribute to our University and to all of us, and for all of that I thank you."
WesternU's nine deans collectively offered a message to Wilson.
"You leave us better than you found us. Like a stone mason, you have shaped WesternU and all of us into something new and more promising. Brick by brick, inspiration by inspiration, you saw in us possibilities that we were blind to, and futures that we could not imagine before. Thank you for your vision and what you have given to all of us.
And Sandy, thank you for sharing Dan with us all these years, and for the graciousness with which you have served as First Lady."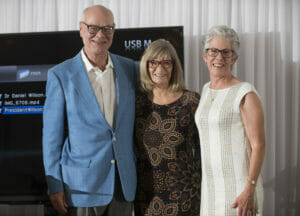 College of Graduate Nursing Dean Mary Lopez, PhD, RN, presented gifts from the deans, and Senior Vice President for University Advancement Diane Abraham, PhD, CFRE, presented gifts on behalf of the President's Senior Executive Team (PSET) and the University community. University Advancement organized the retirement dinner.
Wilson thanked everyone at the dinner and everyone at the University, including alumni, Trustees, staff, faculty, students, administrative leaders, community supporters, donors and friends. And he thanked Sandy, "the only first date I ever had in my life."
"I hope, the Boy Scout that I am, we left the campsite in better condition than we found it," Wilson said. "It's just been a wonderful evening. It's been a wonderful five years."
Categories: