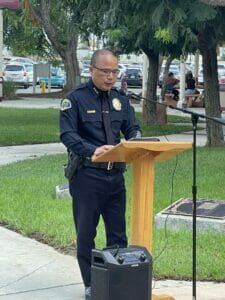 Western University of Health Sciences held a memorial ceremony to honor those who died in the September 11, 2001 terrorist attacks and those who serve our country in the military and as first responders.
WesternU's Military Medical Student Association held its annual ceremony on WesternU's Pomona campus Sept. 12, 2022. Among the guests were representatives from the Pomona Police Department, Los Angeles County Fire Department Station 183, and the city of Pomona.
Pomona Police Deputy Chief Christian Hsu said it is fitting that this remembrance happens at an institution of learning. He reminds his staff and officers to never stop being students.
"We need to be eager to learn about our future and study and learn from our past," Hsu said. "It is also fitting that this institution prepares people to take on and be on the front lines to treat, care and cure people. You will serve in your communities, across the state, over borders, and some of you will cross seas. I thank you for your resilience and mission to serve."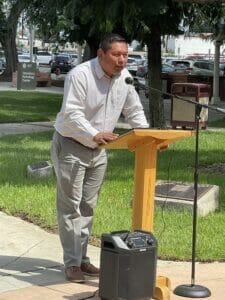 "It is a pleasure for all of us to be here together in unity all of us here together," said Pomona City Councilman Victor Preciado. "From the bottom of my heart, from the city of Pomona, I join you in unity on this remembrance of 9/11."
"I want to thank our firefighters, police officers and military for all they do for us to carry forward and have the freedoms we have today," said College of Osteopathic Medicine of the Pacific Acting Dean David Connett, DO '84, FACOFP, Dist.
The ceremony opened with a performance of "The Star-Spangled Banner" and closed with a bugle performance of "Taps," followed by a moment of silence.