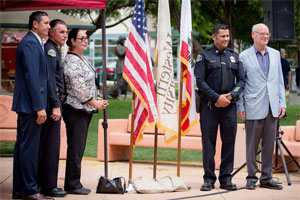 Community leaders gathered at Western University of Health Sciences in Pomona, California Monday, Sept. 11, 2017 to honor those who died in the Sept. 11, 2001 terrorist attacks.
WesternU dignitaries joined representatives from the city of Pomona, the Pomona Police Department and the Los Angeles County Fire Department at a memorial service organized by the WesternU Military Medical Student Association. The WesternU Chamber Singers performed "The Star-Spangled Banner" and U.S. Army veteran Thomas Laffey closed the ceremony by playing "Taps" on the bugle, followed by a moment of silence.
The terrorist attacks were an inhuman assault on the U.S., said WesternU President Daniel R. Wilson, MD, PhD.
"We memorialize that today, not just the passing of those individuals, the civilians, the first responders, law enforcement, military, and I think most remarkably, just the everyday citizens who were heroic as well," Wilson said. "Everyone came together as Americans that day. We are here 16 years later a stronger nation than ever before, resilient and yet remembering one of the most extraordinary experiences in our lives."
Pomona City Councilwoman Elizabeth Ontiveros-Cole honored the courage shown by passengers and crew aboard United Airlines Flight 93, which crashed in a field in Somerset County, Pennsylvania, as well as the courage of those in the World Trade Center towers.
"This is something that will never be taken away from our hearts, nor our memories," she said. "I thank God that we are Americans and we stand together and we unite, for this is what makes us strong."
The Pomona Police Department has a memorial in front of its headquarters that honors those officers who have lost their lives in the line of duty. The names of those officers are inscribed on the monument along with three words in Spanish, "Siempre con nosotros" ("Always with us.")
"The victims of 9/11 and all the first responders who have lost their lives in the line of duty will always be with us," said Pomona Police Chief Paul Capraro.
In the aftermath of the Sept. 11 attacks, Pomona Police and the Los Angeles County Fire Department collaborated to develop cutting-edge active shooter training, Capraro said.
"This allows both police and fire to come together to form a rescue task force that systematically eliminates the threat with the ability to treat the wounded," he said. "Much of the training and tactics that were developed here are now being taught across the nation. WesternU has opened the doors of their campus to help us educate our officers and our community members on a variety of law enforcement topics."
"I also want to say thank you to the Pomona community for standing by its police department and giving us the opportunity to serve in so many wonderful ways," Capraro said. "Without these positive relationships there is no trust, and a lack of trust leads to turmoil."
He quoted Sandy Dahl, wife of Flight 93 pilot Jason Dahl, who said, "If we learn nothing else from this tragedy, we learn that life is short and there is no time for hate."
"Let us never forget September 11," Capraro said. "Let us never forget all of our fallen heroes because they are 'siempre con nosotros.'"
Three thousand lives were lost that day, but that number doesn't fully account for the families shattered by those deaths and the pain that still lingers, said Pomona Mayor Tim Sandoval.
"What also came out of 9/11 was the coming together of people – our first responders, churches, universities and everyday people," Sandoval said. "That was the spirit in this country after 9/11. As we remember the people who lost their lives that day, I have no doubt they would want us to remind ourselves of that spirit — people coming together not only in this country but throughout the world to make this place we all call home a safer place, free of strife."