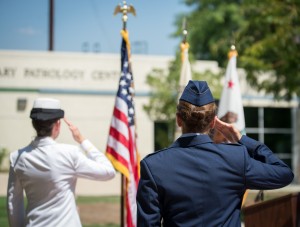 First responders and city officials joined Western University of Health Sciences faculty, staff and students in honoring those who died in the Sept. 11 terrorist attacks 14 years ago.
WesternU's Military Medical Student Association organized the memorial service on WesternU's Pomona campus Sept. 11, 2015. Among the special guests were Pomona Mayor Elliott Rothman, Pomona Police Chief Paul Capraro, Los Angeles County Fire Department personnel, and WesternU Interim President, Provost and COO Gary Gugelchuk, PhD.
"Today, on its 14th anniversary, we pause as an academic community to remember and reflect upon the events of Sept. 11, 2001," Gugelchuk said. "And in our reflections we pay honor to the nearly 3,000 individuals who lost their lives on that day. And importantly for us, the nearly 400 first responders, both police and fire personnel, who also lost their lives in their efforts to save the lives of others.
"So as we pause to remember, to reflect and to honor, my thoughts turn to a quote from the Quran that sums up my thoughts on this day. 'Whoever kills an innocent human being, it shall be as if he has killed all of humankind. And whoever saves the life of one, it shall be as if he has saved all of humankind."
Capraro shared his memories of that day, watching with another homicide detective the events unfold on television.
"I remember the feeling of helplessness that I just couldn't shake," he said. "I also remember trying to explain what was going on to my 5-year-old son."
The Pomona Police Department is dedicated to the community of Pomona, and does its best every day to improve the quality of life in the city, Capraro said.
"We also do our work while remembering those who have come before us, those who have sacrificed to make this nation the free country that it is," he said. "Today our flags fly at half-staff in honor of those who perished on Sept. 11, 2001. We honor our own public safety personnel who have made the ultimate sacrifice by keeping their memory alive, and as a nation, we honor those who died on Sept. 11 by promising that we will never forget."
The ceremony opened with the WesternU Chamber Singers performing the national anthem and closed with the playing of taps and a moment of silence.
Categories: