WesternU holds research symposiums in Lebanon and Pomona
January 29, 2023
Read 1 mins
Western University of Health Sciences students in Pomona, California and Lebanon, Oregon, showcased their research projects and gained valuable experience and networking opportunities during two symposiums on Dec. 14, 2022.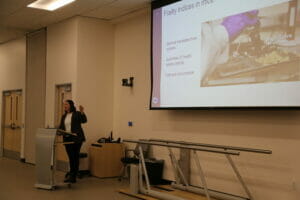 Western University of Health Sciences College of Osteopathic Medicine of the Pacific-Northwest's Research Club held its eighth Annual Student Research Symposium at WesternU's College of Health Sciences-Northwest campus in Lebanon. The keynote speaker was Institute for Systems Biology Assistant Professor Alice Kane, PhD, whose research focuses on frailty and aging. ISB is a nonprofit biomedical research organization located in the South Lake Union neighborhood in Seattle. COMP-Northwest students Elise Krippaehne, Sofia Penrose and Sydney Khuen, Peter Allegre, and Leilani Lopes and Conor Davenport gave oral presentations.
The event was a huge success for all who attended, including WesternU students, faculty and staff and guests from Samaritan Health and Oregon State University. The accommodations at CHS-Northwest were superb and well-suited for the event, said COMP-Northwest Professor Glen Kisby, PhD, who serves as the Research Club adviser.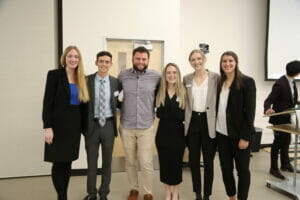 "For the first time, we had a keynote speaker to open the event that was well received by everyone. This was followed by a poster session for about an hour with food and drink and then platform presentations," Kisby said. "The Research Club students who organized the event learned that a lot of hard work goes into holding a Research Symposium and the students who presented got an opportunity to discuss their research project before an audience.  These types of events help students learn the best way to inform others about their research, especially since it is a requirement for residency programs. Therefore, it should be an integral part of a medical student's education to better prepare them for residency."
"It was exciting seeing all the research being conducted at COMP-Northwest by my peers," said second-year COMP-Northwest student David Beckett. "It highlights the numerous opportunities we have that allow us to be involved and demonstrate our passion for scientific curiosity."
Read coverage of the symposium in the Lebanon Express.
The 2022 WesternU COMP Research Day, held on WesternU's Pomona campus, provided the opportunity for students to present their research, mingle with students from all four cohorts, and network with faculty members.
COMP received 71 abstract submissions. Ten student speakers presented their research and 61 posters were displayed in the Health Education Center. The symposium was supported by COMP and COMP-Northwest Interim Dean David Connett, DO '84, FACOFP, dist., and WesternU Interim Senior Vice President for Research and Biotechnology Bradley Henson, DDS, PhD.
The symposium was scheduled on a day when all four COMP classes were on campus, and the high attendance and large number of abstract submissions are encouraging, said COMP Professor Hendrik Szurmant, PhD.
"We think the tremendous interest in this shows this needs to be an annual event," Szurmant said. "We think it's the start of a new tradition."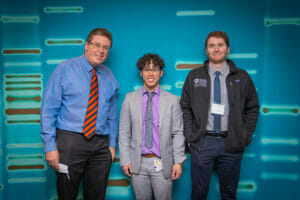 Third-year COMP student Kevin Nguyen proposed a college-specific research symposium in response to his frustrations of trying to network as a first-year student early in the COVID-19 pandemic. He worked with second-year COMP students Ira Glassman and Jingya Miao, along with Szurmant and COMP Associate Professor Sebastien Fuchs, MD, PhD, to organize the event.
"When I was a first-year living in the pandemic, I struggled to reach out for research opportunities," Nguyen said to the symposium attendees. "We were all online. It was tough to network. Going to conferences wasn't allowed at the time. I was emailing hundreds of different advisers and cold calling offices. Luckily, I was able to find great mentors. I was able to find success, but in my mind, I thought this shouldn't be so hard. I wanted to bring this opportunity to you here.
"This is an opportunity for members of different class years to interact with each other," Nguyen added. "It will also give faculty a chance to see what students have been working on besides their studies. It sets up a great networking opportunity for sharing findings and harboring new ideas and future directions. I hope this tradition continues."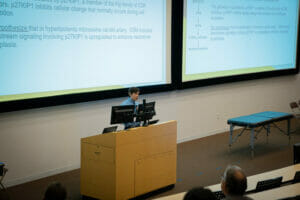 Second-year COMP student Jerry Trinh said he wanted to participate in the symposium so he could share his findings and see what his peers are working on as well.
"It's a way to celebrate our own college's achievements," Trinh said.
He had conducted research and given presentations as an undergraduate, but now as an osteopathic medical student he has a better grasp of the scientific concepts he is investigating.
"Having that increase in baseline knowledge helped me understand why I was doing the work I was doing and why it is important," Trinh said. "There is definitely more context and understanding. I think it's important to stay on the forefront of medicine. As future physicians, we need to update our knowledge."
First-year COMP student Noor Said said there are many benefits to an event like this.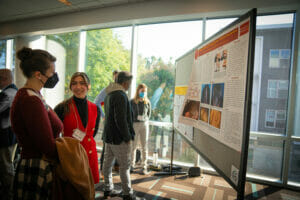 "It's an important opportunity to represent your research, and to network with other students to collaborate on future projects," she said. "You can share insight into how they thought of their research project and who their advisers were. It fosters a great environment for future research."
Said conducted research at USC's Keck School of Medicine while earning her Master of Science in Global Medicine and was one of the poster presenters.
"I value the importance of learning and how science is ever changing and evolving, which drew me into research," Said said. "Medicine and research go hand in hand. To be an effective physician, I am going to need to know the latest research and treatments."