Western University of Health Sciences held its first Juneteenth celebration on Wednesday, June 14, 2023.
Special guest speakers Jeanette EllisRoyston and the Rev. Ted Burnett from the NAACP Pomona Valley Branch provided a history lesson and a call to action for WesternU students, faculty and staff watching in person in Pomona, California and via livestream at WesternU Oregon in Lebanon, Oregon.
"We are proud as a University to be strong advocates of Juneteenth," said WesternU President Robin Farias-Eisner, MD, PhD, MBA. "We have adopted this as our holiday for the University. We respect it. And we know this is Freedom Day. We know that June 19, 1865, was an important, critical day for our nation to be celebrating the freedom of our citizens."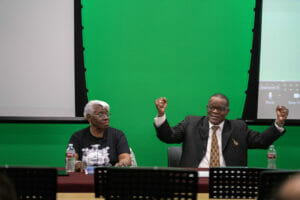 The Rev. Ted Burnett, NAACP Pomona Valley Branch Second Vice President, provided historical context for Juneteenth. Juneteenth celebrates the anniversary of the order issued by Major General Gordon Granger proclaiming freedom for slaves in Texas on June 19, 1865, Burnett said. President Abraham Lincoln issued the Emancipation Proclamation on Jan. 1, 1863.
"The Emancipation Proclamation signed by Abraham Lincoln did not free all the slaves," Burnett said. "It freed the slaves that were in the rebellion states, which was Texas, South Carolina, Mississippi, Alabama, Florida, Georgia, Louisiana, Virginia, Arkansas, Tennessee, and North Carolina, which added up to about 3.5 million slaves."
It did not free the other 500,000 slaves in the border states – Delaware, Maryland, Kentucky and Missouri. That came with the Reconstruction Amendments to the Constitution, adopted between 1865 and 1870. The 13th Amendment abolished slavery. The 14th Amendment extended liberties and rights granted by the Bill of Rights to formerly enslaved people. The 15th Amendment gave African American men the right to vote.
Burnett also talked about immigration policies and the Homestead Act that took land stolen from Native Americans and gave it to white immigrants from Europe.
"So they (U.S. Government) brought them in from Europe, gave them land, used county agencies to teach them how to farm. Then gave them low-interest loans to mechanize the farm and gave them an unfair advantage when they couldn't take care of the Americans that were already here – the Black Americans and the Native Americans," Burnett said.
The Chinese Exclusion Act of 1882 banned Chinese laborers from entering the country.
"So when you look at things like that, the immigration policy was racist from the beginning because it gave an unfair advantage," Burnett said. "With the civil rights movement with Dr. Martin Luther King, Cesar Chavez, and Rabbi Heschel, they said the immigration policy from 1885 to 1950 is only geared toward who the United States want to bring into this country. So they started the Immigration Act of 1965, that also brought in Asian people, African people, Latin American people, gays and lesbians and everything else.
"There is a lot of history that affects us today and why we're here. When you think Juneteenth is about freeing slaves, it was about freeing Americans. There is no American history without Black history," Burnett said.
"Our forefathers all came here on different ships, but because of what's going on now, we're all in the same boat," he said.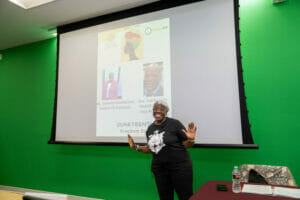 NAACP Pomona Valley Branch President Jeanette EllisRoyston provided a history of the NAACP and an update on the Pomona Valley Branch's current activities. The NAACP was founded in 1909 by a group of white socialists, she said.
"Why I stress this everywhere I go is because I am so proud of the Pomona Valley Branch. We are so diverse," EllisRoyston said. "Our mission is to ensure the political educational, economic, equality and equity rights for all people. That's why I believe in diversity."
The NAACP's national office is in Baltimore, Maryland, with approximately 3,000 branches throughout the country. California has 57 branches of the NAACP. EllisRoyston reactivated the Pomona Valley Branch in 2013 after 22 years of inactivity. The Pomona Valley Branch serves five San Bernardino County cities – Upland, Ontario, Chino, Chino Hills and Montclair – and five Los Angeles County cities – Diamond Bar, Claremont, La Verne, San Dimas and Pomona.
"We have members from each of those cities, and my task for those members is to get involved with their local city council, the school board, and the police department," EllisRoyston said. "Together, we can fight discrimination and injustice. So I feel very inspired that is happening."
The Pomona Valley Branch is working with state legislators on four bills: AB 742, which addresses use of police force; AB 1165, which addresses racist bullying, harassment, or intimidation in school; AB 1327, which addresses racial discrimination in interscholastic athletics; and SB 673, which would authorize a law enforcement agency to request the Department of the California Highway Patrol to activate an "Ebony Alert," with respect to Black youth, including young women and girls, who are reported missing under unexplained or suspicious circumstances.
EllisRoyston also celebrated her collaboration with WesternU College of Osteopathic Medicine of the Pacific students Vaana John and Tyler Beale to develop the Health Careers Pathway for the Pomona Unified School District.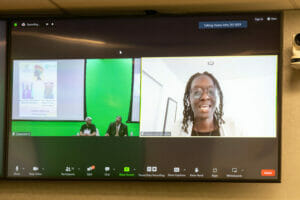 "The Health Careers Pathway is a mentorship program that aimed to educate Black students on the variety of health care professions available to them and the various paths and requirements to get there, with the ultimate goal of increasing the number of Black health care professionals," John said. "We had the great opportunity of working with parents, educating them how they can best support their high school and middle school children in the various opportunities that they could use to gain more interest and more education in health care. This project was in huge part due to the openness and willingness of the NAACP to make these connections. They connected SNMA (Student National Medical Association) with the Pomona Unified School District. They really helped us reach out to the community and combine all of our interests and our passions to create this wonderful program."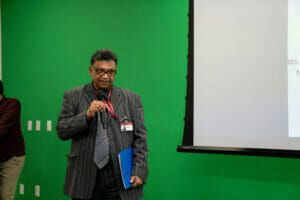 In closing, WesternU Vice President of Humanism, Equity, and Anti-Racism Suresh Appavoo, EdD, said the U.S. is at a crucial crossroads, and we can choose to do things together or apart.
"I sincerely hope some of the history that was shared today, some of the work that was shared today, some of the organized activism that was shared today by one of our longest standing civil organizations lends us not only inspiration but really provides us with a great deal of courage to do, in the words of Spike Lee, the right thing," Appavoo said.
WesternU's Juneteenth celebration was presented by student clubs White Coats for Black Lives, SNMA, and the Black Student Union and supported and sponsored by WesternU's Office of Humanism, Equity, and Anti-Racism, University Student Affairs, Division of Institutional Shared Services, and Center for Academic Community Engagement.