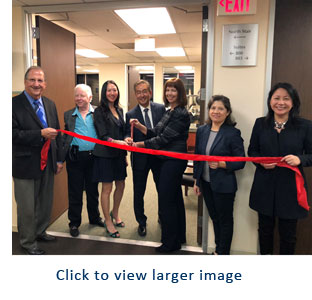 Western University of Health Sciences' College of Optometry held a grand opening celebration for its Eye Care Institute – Los Angeles Jan. 31, 2018. ECI-LA provides low-vision evaluations, adaptation to vision or field losses post traumatic brain injury and stroke, training in daily life skills, evaluation of assistive electronic devices, orientation and mobility training, occupational therapy and counseling for patients and their families.
ECI-LA is at 2080 Century Park East, Suite 800, Los Angeles, California, 90067.
Left to right: Former College of Optometry Associate Dean of Clinical Affairs (retired) Robert Gordon, WesternU Harris Family Center for Disability and Health Policy Director Brenda Premo, Chief of Vision Rehabilitation Service Linda Pang, Associate Dean of Clinical Affairs Raymond Maeda, Clinical Assistant Professor Tina MacDonald, ECI-LA Care Coordinator/Front Desk Receptionist Laura Valencia, Chief of Optometric Staff Loretta Ng.