WesternU helps the most vulnerable populations at Care Harbor Los Angeles
November 20, 2019
Read 4 mins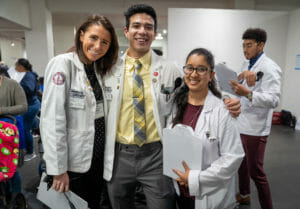 Los Angeles County faces an unprecedented homeless crisis.
Western University of Health Sciences faculty, staff and students were among the volunteers who stepped up to address this problem by providing free medical, dental, vision and podiatric care to the homeless and others in need at the Care Harbor mega clinic at The Reef in downtown Los Angeles Nov. 15-17, 2019.
Friday, Nov. 15 was dedicated entirely to providing care to an estimated 1,000 people who are without homes or near homeless.
"This makes it the largest collaborative effort to provide health care to the homeless in the county of Los Angeles that has ever been witnessed," said Los Angeles County Supervisor Mark Ridley-Thomas. "We must act on this deep threat that poses itself to our fundamental humanitarian principles. This requires a comprehensive crisis response and that is what you are seeing today. You see the staggering scope of the need, but you also see what a response can look like. We celebrate all of the volunteers who are here."
Care Harbor has held 11 clinics and has provided about 164,000 medical, dental and vision services to about 30,000 patients, an estimated donation of $24 million in care, said Care Harbor CEO Don Manelli.
"But another number describes our charity a lot more. The number one," Manelli said. "One doctor who has given up a day from his practice to come here and put in a grueling day to help people who don't have access to the care we can provide. One dentist. One optometrist. One general volunteer. Care Harbor is a lot of ones. Nobody has to be here. We're all volunteers. It's a real grassroots effort. That's the power of Care Harbor. This is our community coming together to help our own."
The treatment he received at Care Harbor was "A-plus," said patient Steve Baca Jr. He used to have reading glasses nearly 20 years ago, but he didn't properly care for them and they broke. He would be "all messed up" without the free pair of eyeglasses he received from Care Harbor.
"Medi-Cal doesn't cover everything. It costs a lot of money to get a real pair of glasses," Baca Jr. said. "I don't have the words to describe my joy and happiness."
Deberal Cooley almost turned around and left when she saw the line to get into Care Harbor on Friday. But she got through the line and got a new pair of glasses. She said the WesternU College of Optometry students who helped her are "awesome. Everybody I came across was helpful. They provided good customer service."
College of Podiatric Medicine Associate Professor Jarrod Shapiro, DPM, supervised 19 CPM students on Saturday and 17 students Sunday. They performed a total of 80 procedures.
College of Graduate Nursing Assistant Professor Ruth Trudgeon, DNP, RN, supervised nine Master of Science in Nursing Entry students as they "triaged" patients on Saturday.
"They were the first providers to see patients – taking histories, vitals and a basic assessment," Trudgeon said. "This was the first year I took some first-year students and they did really well. We triaged nonstop from 7:30 a.m. to 2 p.m. All in all a great experience."
First-year College of Optometry student Lillyt Ouzounian said she wanted to volunteer at Care Harbor to give back to the community, and after a very busy Friday morning she realized there was a lot of people in need. Several patients said their glasses were broken, stolen or lost.
"I feel we're doing a very big thing just helping them see, especially with what they're going through," Ouzounian said.
WesternU has coordinated Care Harbor's vision section for the past three years, said College of Optometry Associate Dean of Clinical Affairs Raymond Maeda, OD, FAAO. A huge number of faculty and students helped throughout the weekend, including an initial Friday morning group of 24 third-year students and 39 first-year students. WesternU partners with the UCLA Stein Eye Institute, which handles ocular health concerns.
The vision center had already examined 200 patients by midday Friday, Maeda said. Patients were provided transportation from shelters. The first-year students had to return to campus for a class in the afternoon, but some wanted to stay longer.
"Some actually wanted to stay and keep doing this. That's how much they enjoy doing this,
Maeda said. "To hear that from our students, for them to see the importance and need says a lot. I was proud to hear that."
First-year College of Osteopathic Medicine of the Pacific (COMP) student Joshua Chan was among the many COMP students and faculty who volunteered at Care Harbor. Chan said he volunteered because he wanted to give back to the community and to improve his patient interaction skills and his proficiency in his palpatory skills. But the key lesson he learned at Care Harbor was the importance of giving each patient his time and attention.
"There were moments where I lacked some confidence in my ability to provide quality patient care, but each patient I interacted with thanked me for my time and appreciated my efforts despite how I felt," Chan said. "As a first-year osteopathic medical student, the patient's gratitude was more than I could have asked for, and it was motivating to see that my studies were slowly playing a big role in the lives of other individuals."