Western University of Health Sciences' Pomona Health Career Ladder (PHCL) and American Indian Health Career Ladder (AICHL) will be virtual for its first Saturday Academy of the 2020-21 academic year Sept. 19, 2020.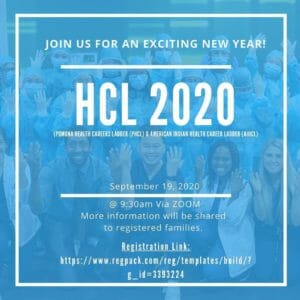 WesternU Pipeline to Health Careers president and second-year College of Osteopathic Medicine of the Pacific student Joshua Chan, along with 22 student officers, have collaborated with WesternU's Academic Community Engagement (ACE) team to create case-based curriculum amid the COVID-19 pandemic.
"Our summer PHCL students taught us a great deal about the necessity for building connection and student engagement," said Elizabeth Rega, PhD, Associate Vice President for ACE, Office of Mission Integration."Director of HCL Dr. Camille Ramos-Beal has been essential this year in collaborating with ACE and WesternU students to pivot the Pomona and American Indian curriculum to engaging online delivery for Fall."
Course materials and professionally-cleaned white coats will be distributed by the ACE team in a drive-up center in the downtown Pomona Anderson Tower parking lot Thursday and Friday Sept. 17 and 18 to students and parents who registered in advance.
2020-21 kicks off with a Zoom session from 9:30 -11 a.m. Sept. 19, 2020.
PHC president and officers, WesternU faculty and staff introductions.
White coating at home.
Curriculum and new classroom structure description.
Keynote by WesternU Health Chief Medical Officer Stephanie White, DO, who will speak about the new WesternU Health Lifestyle Medicine program.
Additional comments by attending pediatrician at Riverside University Medical Center in Moreno ValleyGabrielle Balan, DO.
Classroom leaders and parent plenary speakers will each briefly introduce their curriculum for the year.
Dates for the remaining Saturday Academies are:
October 17, 2020
November 14, 2020
December 12, 2020
January 23, 2021
February 20, 2021
April 24, 2021 (Awards Ceremony)
Please go to the Pomona Health Career Ladder website for more information to register/apply.
Here's a post from Saturday's virtual academy.