WesternU graduates urged to better the world through optimism at the first of five 2019 Commencement ceremonies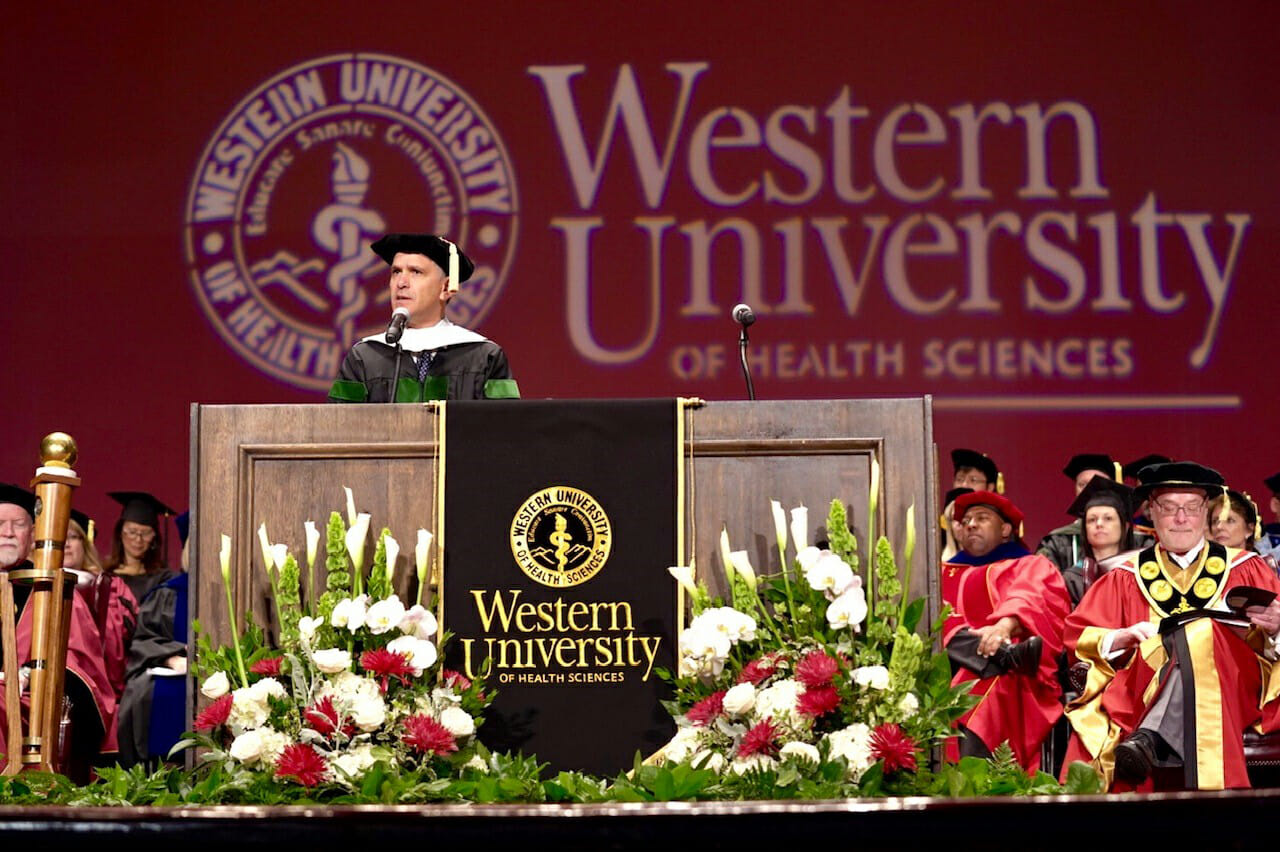 A leading global health expert urged new Western University of Health Sciences graduates to embrace an optimistic view of the future that celebrates past health care successes and builds on them to make better lives for all the people of the world.
Christopher J.L. Murray, MD, DPhil, a professor of global health at the University of Washington and Institute Director of the Institute for Health Metrics, told WesternU College of Health Sciences and Graduate College of Biomedical Sciences graduates that they had "picked the right profession" to make a difference.
"Health sciences is that incredible blend of dynamic discovery — there's always new things we're discovering — and a commitment to individual patients and individuals in communities to make their lives better," he said. "So you're in the right place."
Murray — widely known for founding the Global Burden of Disease, a systemic effort to quantify the comparative magnitude of health loss due to diseases, injuries, and risk factors by age, sex, and geography over time — was the keynote speaker for the first of five WesternU Commencement ceremonies that will take place over three days (May 22-24) at the Pasadena Civic Center in Pasadena, California. In all, 1,071 graduates in nine health sciences colleges will receive their diplomas during the university's 38th annual commencement exercises.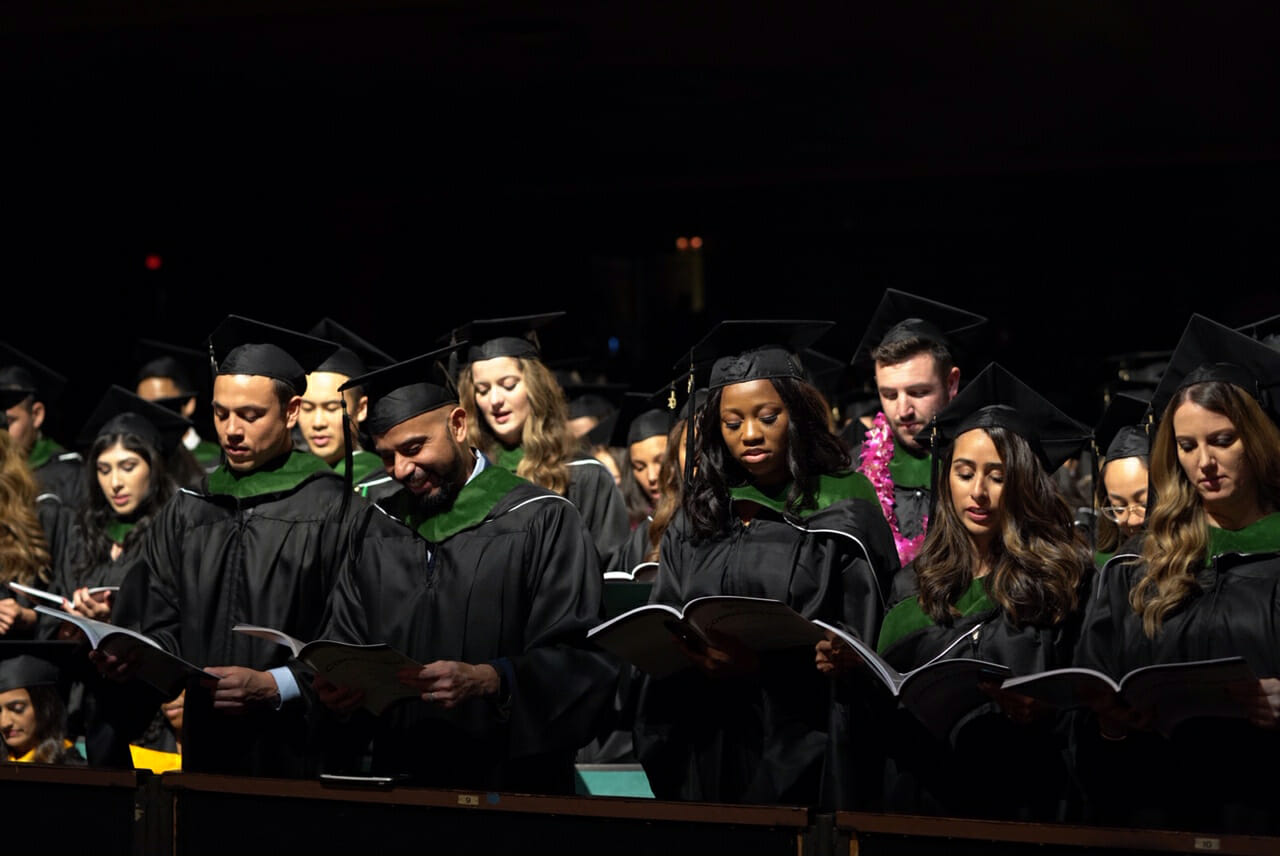 Murray reminded the graduates that the story of modern health care is one of resounding success, as death rates have dropped precipitously over the past 50 years, and illnesses that once ravaged the globe — including diphtheria, smallpox and polio — have largely been eliminated.
"There is success after success that we forget to celebrate, and we should remember just how powerful the community of both research and practice has been in improving people's lives around the world," he said. "As we think about the future and your future, let's remember the success of the past.
Still, challenges remain. Obesity, and the diabetes linked to it, remains a pressing concern, as do Ebola and other new diseases that defy ready solution. In the face of such new challenges, it might be easy to embrace the pessimistic view that things will only get worse, Murray said, but he prefers an optimistic viewpoint based on past success.
"The optimists' view is that we're surrounded by a culture of innovation, discovery, new technology," he said. Despite an abundance of new problems, "I'm quite sure that the future is not predestined. Where we go as a country and as a world is very much driven by what you do, what we all do, in that balance between the pessimism and seizing the optimistic pathway.
"The charge for you as a community starting your careers is to be on the side of optimism and to find ways that we can harness discovery and enhance sense of care to really overcome — as we have in the past — obstacles, and therefore tip the balance of the future trajectory of health toward that better future for us all."
Murray closed with a family motto passed down to him by his parents: "Do good work that matters."
Gary M. Gugelchuk, PhD, received an honorary Doctor of Humane Letters degree during the ceremony for his service to WesternU and impact on health professions education. He has served WesternU in a variety of roles since joining the College of Osteopathic Medicine of the Pacific in 1986, including assistant professor, program director, associate professor, dean of the College of Allied Health Professions (now the College of Health Sciences), and vice president of academic affairs. He is retiring June 30, 2019 as WesternU's provost and chief operating officer. He will remain with the University as Professor and Provost Emeritus as well as Special Advisor to the President.
But it is not the dizzying array of titles and roles he has held at WesternU that distinguishes his service, said College of Health Sciences Dean Stephanie Bowlin, EdD, PA.
"Rather it is his intellectual and scholarly rigor, his dedication to student welfare, the breadth and depth of his knowledge of our University and its communities and his stewardship of WesternU's mission and principles that distinguish him as one of the most effective and influential leaders in graduate health sciences education," she said.
College of Health Sciences graduate Yaseen Kady, MSPA '19, said Commencement is the culmination of all the hard work he and his classmates put in not just in PA school, but all the effort it took to get into PA school. He worked in his father's primary care clinic in San Diego as a youth, and his goal is to provide care to the underserved communities in that area.
"I will miss our cohesive team and the positive environment that encouraged others to succeed," Kady said. "I will miss the academic intensity that you can only get in a group setting. I will do my best to apply lifelong learning as a practitioner."
Graduate College of Biomedical Sciences graduate Thalia Fabian, MSMS '19, will enter the College of Osteopathic Medicine of the Pacific in the fall. The goal of the MSMS program is to help students from diverse backgrounds to gain acceptance to professional schools while increasing the number of health professionals in underserved areas.
Fabian plans to frame her MSMS degree and give it to her parents. She is the first in her family to graduate from undergraduate and graduate programs.
"They've seen how much I struggled. I wanted to give up so many times. They've been behind me saying, 'You can do it,'" Fabian said.  "This is the biggest gift I can give them as a token of all they have done for me. Their hard work was not in vain."