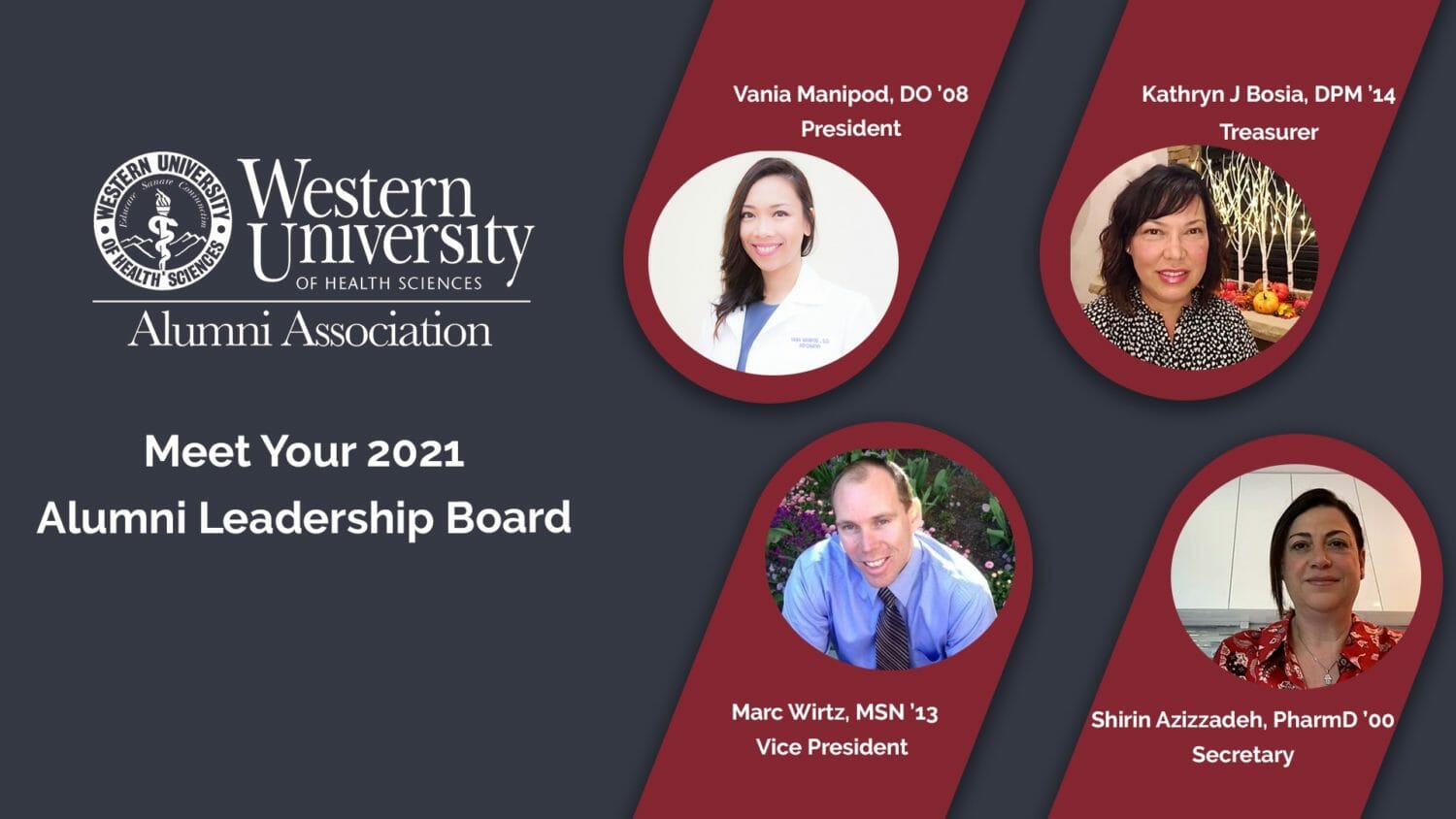 Western University of Health Sciences has formed an Alumni Association Leadership Board to further engage its graduates and give them a greater voice in decision making.
The Alumni Leadership Board officers are: President Vania Manipod, DO '08, Vice President Marc Wirtz, MSN '13, Treasurer Kathryn Bosia, DPM '14, and Secretary Shirin Azizzadeh, PharmD '00.
"I am excited to have these passionate alumni lead our efforts to engage our alumni in new and different ways," said Diane M. Abraham, PhD, MBA, CFRE, Senior Vice President for University Advancement. "Having engaged alumni are critical to WesternU's continued success."
Dr. Manipod, who graduated from the College of Osteopathic Medicine of the Pacific in 2008, said she wants to work with this alumni team to find creative ways to help alumni stay connected with WesternU and figure out the best platforms to help alumni stay informed.
"Before the pandemic, distance from WesternU was a possible barrier to attending events or mentoring students, but we now have a unique opportunity to get creative since we are all in need of connection during these physically-distanced times," she said. "We can listen to ideas of alumni and figure out what types of activities and forms of communication is of most interest to them. Since we also have different committees for outreach, we would definitely consider ways to foster connection between current students and alumni."
The Alumni Association also formed committees that will focus on program and events, mentorship and communications. WesternU has 17,186 alumni.
Manipod said her goals as president are to help the alumni association grow and not only foster connections within each program but between the different programs at WesternU.
"Our time spent at WesternU played a huge role in our growth as medical professionals, so I wanted to be a part of the new board to help jumpstart the association and create ways to strengthen connections with alumni," Manipod said. "As alumni we represent WesternU and have the ability to be positive influences on the next generation, so it's my hope that strengthening these connections will be one of the reasons future generations will want to pursue graduate education at the University."
WesternU surveyed its alumni in 2019, and in spring 2020 put together an alumni steering committee to help create bylaws and to structure what the Alumni Association Leadership Board would look like. WesternU is re-establishing an alumni board for the first time in more than a decade.
"The board will be the voice of alumni, instead of the Office of Alumni Relations making the decisions," said WesternU Senior Director of Alumni Relations Susan Terrazas. "This is going to be an asset to us and to the overall institution."
Click here to visit WesternU's Alumni and Friends website: https://alumnifriends.westernu.edu/