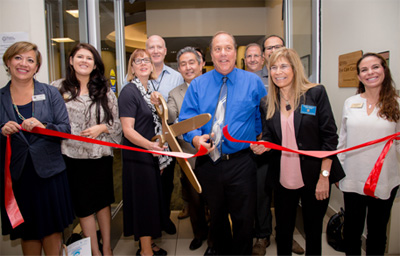 Western University of Health Sciences' College of Optometry celebrated a new beginning in providing eye care to the community.
The Eye Care Institute at WesternU, part of the Patient Care Center at 795 E. Second St., Pomona, California 91766, officially opened on Tuesday, Sept. 20, 2016.
"I'd like to thank everyone for taking time out of their busy schedules to help us celebrate where we've been, where we are today and the future of eye care," said College of Optometry Founding Dean Elizabeth Hoppe, OD, MPH, DrPH. "As you mix, mingle and greet us today, please note we love to take care of members of the community in a comprehensive and interprofessional manner. We hope to amaze you with our technology but we hope that you remember us for our humanistic touch."
Special guests included WesternU President Daniel R. Wilson, MD, PhD, Pomona Mayor Elliott Rothman, Pomona Unified School District board member Roberta Perlman, OD, California Optometric Association President Stevin Minie, OD, and representatives from the Pomona Chamber of Commerce and the offices of U.S. Rep. Norma Torres, Assemblyman Freddie Rodriguez, state Sen. Connie Leyva and Los Angeles County Supervisor Hilda Solis.
The Eye Care Institute opened in 2010 as the Eye Care Center, offering 20 examination lanes and services including primary eye care, contact lenses, diagnosis, treatment and management of ocular diseases, pediatric eye care and vision therapy, vision rehabilitation, and neuro-optometric rehabilitation. The Eye Care Institute will continue to offer comprehensive patient care and education from experienced WesternU faculty and interns, as it has since its opening.
The College of Optometry hired a consulting team in 2015 to develop a marketing plan for its eye care facility. The most important aspect of the marketing strategy was the adoption of an identity, said College of Optometry Assistant Dean of Clinical Affairs Raymond Maeda, OD, FAAO.
"After numerous interviews and observations conducted by the team, it was determined that the identity that best reflects the Eye Care Institute was, 'Changing lives through comprehensive, compassionate, state-of-the-art care,'" Maeda said. "To go with this, we felt the need for a name change, which is why we're here today. We are proud to call our eye care facility the Eye Care Institute."
The event also celebrated the Fraternal Order of Eagles' (FOE) donation of special assistive technology for visually impaired children, enabling them to function more independently. Tim Weber represented FOE District 23, Sires and Arabella Unit 2, a branch of past FOE presidents.
Weber said making the donation was easy with the help of College of Optometry Chief of Vision Rehabilitation Service Linda Pang, OD, FAAO. It usually takes four to six months to coordinate a donation, but this one took six weeks.
"Dr. Pang sent us a wish list, and we were able to get everything on her wish list," Weber said.
Categories: