Jacob Green's life changed on February 6, 1998.
Then a freshman at UC Berkeley, Green envisioned becoming a diplomat and "changing the world." He worked as a Berkeley guide, showing people how to get around town. On February 6, he went down to the subway to escape the rain when he saw a man attacking two subway agents. Green tried to distract the assailant, who then turned and attacked Green, smashing him repeatedly on the side of the head.
He went to the emergency room, was discharged, and resumed classes. He kept telling people he was fine, but his mom feared otherwise. She attended a class with Green, who got up about 30 seconds into the lecture and left.
"She grabbed my notebook and saw I had no notes after February 6. It was all blank," Green said. "I just couldn't be in an environment with lots of noise, and those lecture halls were just very distracting and too difficult to sit through. I couldn't remember anything. I was lost all the time. I was vomiting a lot. I was having lots of severe headaches and migraines and just not functioning at all."
Green was diagnosed with a traumatic brain injury. He had to drop out of college to focus on a full-time, home-based rehabilitation program that included physical therapy, speech therapy, occupational therapy and neuropsychology. After the six-month program ended, his medical team recommended that he relocate to Southern California to enroll in the Coastline Community College Acquired Brain Injury program for two years.
The brain injury resulted in a host of problems, including short-term memory loss, auditory processing deficit, visual impairment, and spatial processing deficits. He had debilitating migraines from light sensitivity and had trouble retaining what he read.
After more than two years of full-time rehabilitation, he re-entered a university environment at the University of California, Irvine, earning his bachelor's degree and then a master's degree from Cal State Long Beach, helped by his rehabilitation team and newly learned compensatory techniques. He also returned to the workforce, first part time and then full time, working as an EMT, a dispatcher, and then entering public service. He began as an analyst, and after 11 years and six position promotions became assistant city manager of Ontario, California, a community of 170,000 inhabitants served by 1,200 city employees and a $500 million budget.
But Green continued to struggle with three to five migraines per week because of the fluorescent lights in his office building. "I would just sort of bear it out as long as I could. But every single night I was incapacitated," Green said. "I was at the ER a lot. I was having a lot of vomiting and nausea and all kinds of problems as a result of fluorescent light."
One of his colleagues recommended he seek aid at Western University of Health Sciences' Eye Care Institute, where he connected with WesternU College of Optometry Chief of Neuro-Optometric Rehabilitation Valerie Quan, OD, FAAO.
Green was wearing dark gray glasses with a mirrored coating that hid his eyes, which made some people suspicious and reduced his effectiveness as a politician, Quan said. His assistant would read documents to him so he could keep his eyes closed and focus on decisions at work, she said. Her first thought was to try to get him out of those mirrored lenses.
She gathered a team that combined clinical experience with research know-how, including Professor Chris Chase, PhD, FAAO, and Assistant Professor Chunming Liu, OD, PhD, MD. The team used a Mark II Colorimeter to map out Green's specific color preferences, adjusting the hue, saturation and brightness as he went through the color spectrum.
Green's life changed once again.
"As I had my head in this machine and the lights were on and I was looking at the letters below me, as soon as I got to this exact shade of green, my entire face completely relaxed," Green said, holding out his green-tinted glasses. "And it is the shade of green that allows the blues and the reds to be blocked out of the color spectrum and allows my brain to process vision correctly, slowing down the firing of the neurons, slowing down the whole brain system."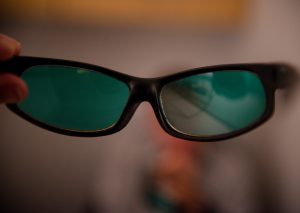 "He said his face felt tingly and that there was almost a wave of relief that came over him. We were really surprised by how dramatic the change was and he was, too," Quan said. "After being prescribed the lenses, he had a good 90 to 95 percent – some days he'll say 100 percent – relief of migraine headaches at work. It's one case, but it's quite an amazing, significant response, and he's able to get back to his life and do his job. So we were pleased with the result."
The green-tinted glasses are a "total game changer," Green said.
"These glasses have absolutely changed my life. They've allowed me to work in the office longer hours and more effectively, not having to use so much of my energy on just compensating through the pain," he said. "Now I can focus all that energy and effort in my job, and that resulted in better performance, better relationships with my colleagues, and I think a lot more fulfillment in the workplace and personal success. I wouldn't have to go home to my wife and kids and be laid out in a dark room struggling through the migraine. Now I could be a lot more present as a husband and father."
Green is now the assistant city manager in San Juan Capistrano. In addition to his "day job," Green works as a motivational speaker for universities and Fortune 500 companies, teaching others how to overcome challenges in the workplace. He gave a TEDxCSULB talk at Cal State Long Beach in 2016 and provided the keynote address at WesternU's Commencement ceremony for the colleges of Optometry and Graduate Nursing on May 18, 2017.
"The day after Dr. Jacob Green spoke to our group, the faculty and staff were abuzz about being inspired by one of the best speakers they have had in 12 years," said College of Graduate Nursing Dean Mary M. Lopez, PhD, MSN, RN. "His story inspired students, faculty and staff alike. Staff is retelling his story of tragedy and triumph and how it doesn't matter what happens to you. All that matters is your response to being the best you can be and giving joy to each person you contact."
Quan said she was pleased to see Green share his story, since his message is important to share with clinicians, therapists and patients.
"(It's) quite rewarding for me as a clinician because it helps create more awareness of some of these symptoms patients might have," Quan said. "It might cue other clinicians and therapists that there can be more that can be attained and done when they're referring patients for additional treatment and care, versus deciding there is not much else they can do or the patient has to live with this condition. This is someone who has persevered. This is someone who has overcome. It's nice to see."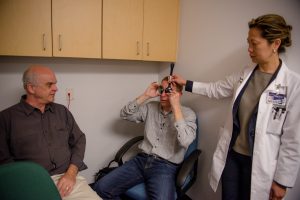 WesternU is a special place, Green said, adding that Quan has gone beyond what most health care providers would do for a patient.
"She treats me like a human being. Whenever I come in to the clinic I feel like I'm respected. I feel like she's completely focused on what I'm saying and what my issues are," he said. "I love that she doesn't try to pretend that she has all the answers. Instead she says we're going to find the answers."
The green lenses were custom tinted by Cerium Labs in the UK and the frame was manufactured by a company in Southern California.
"Dr. Quan searched the entire world for these lenses and for a company that can help solve some of these challenges. And she stayed true to her word. She never said no. She never said, 'I give up.' I'm a very difficult patient. She's always stuck beside me," Green said. "I feel like I have this incredible team in my corner, and as a patient and as someone who struggles a lot through various challenges, it's very reassuring and it gives me a lot of hope and a lot of optimism to know there are people that really do care about whatever challenges I bring to WesternU."
Categories: