Newly-released enrollment figures show Western University of Health Sciences remains a highly-valued destination for students wanting to impact society as health care professionals.
WesternU has an enrollment of 3,816 students for the 2020-21 academic year, an increase from the 2019-20 count of 3,792. The University welcomed more than 1,100 new students in the fall.
"That we welcome so many students again this fall is due to the importance of health care education itself, especially amid a global health crisis, but even more so it is due to our WesternU reputation for academic and clinical excellence — even as University curricula and operations nimbly transitioned to a mostly virtual mode last spring," said WesternU President Daniel R. Wilson, MD, PhD. "The people involved in this successful transition, and in the successful retention and recruitment of students, are too numerous to mention here by name, but they run the gamut of the University:  faculty, deans, administrators, staff, and especially students, all of whom have 'rolled with the punches' to ensure that WesternU standards for excellence are met — indeed, are surpassed — despite pandemic-related challenges."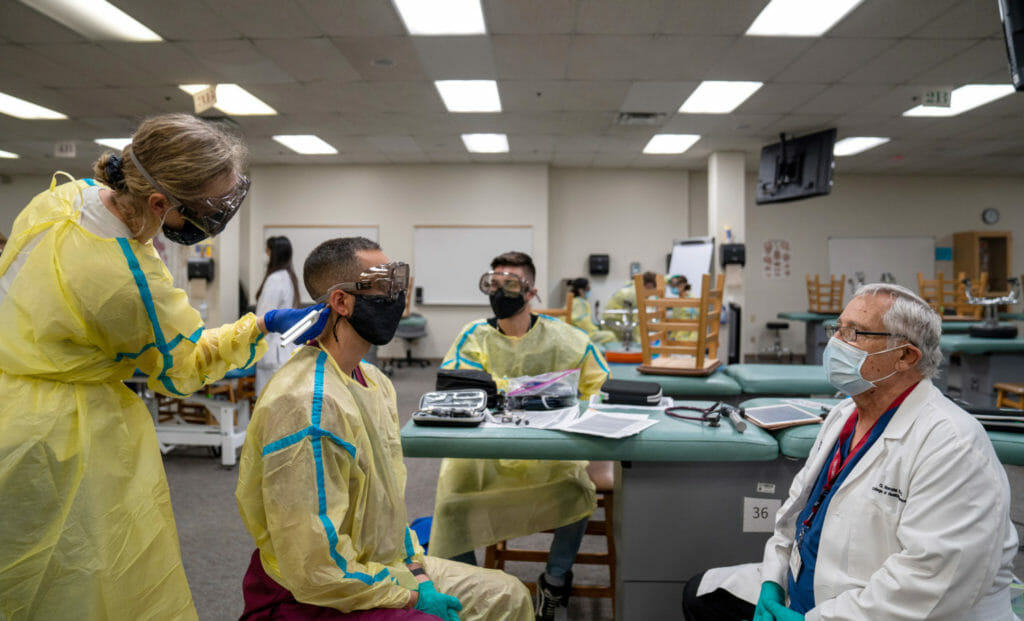 COVID-19 continues to impact operations on WesternU's Pomona, California and Lebanon, Oregon campuses. Didactic classes are being held online and prospective students are being interviewed virtually to ensure everyone's safety. Early data on application rates also show the University is drawing strong interest from prospective students despite all of these COVID-19-related factors.
Applications for the College of Osteopathic Medicine of the Pacific in Pomona and COMP-Northwest in Lebanon are both up compared to the same time last year. COMP has received about 5,500 applications, compared to 4,600 applications one year ago. The College of Optometry's incoming class has 96 students, far surpassing its goal of 66.
"At WesternU we value prospective students and applicants who are considering our excellent academic programs to achieve their career goals. They are making a major decision and investment and we take very seriously," said Beverly A. Sanks Guidry, EdD, Senior Vice President for University Student Affairs. "A collaborative approach with our colleges to achieve enrollment success has served us well over the years. We recognize how important every encounter is with each individual — be it digitally or in person. We want applicants who are inspired to attend WesternU and know from our history — that we deliver on our promise to provide a quality educational experience."
The incoming 2020 class draws students from 40 U.S. states and 22 foreign countries.
"The Admissions team in upholding WesternU's value of humanism has kept our incoming students at the forefront of the process through caring, respect, empathy and trust," said Admissions and Enrollment Assistant Vice President Todd Eckel, EdD. "This has enabled us to reach more students on a human level and is reflected in our strong enrollments."