The WesternU student chapter of the American Association for Women Podiatrists (AAWP) hosted a panel in honor of Women's History Month. The online event, held March 31, 2022, featured leaders from the American College of Foot and Ankle Surgeons (ACFAS), The American Podiatric Medical Association (APMA), the California Podiatric Medical Association (CPMA), American College of Podiatric Medicine (ACPM), the Kaiser Bay Area Foot & Ankle Residency Program, and WesternU College of Podiatric Medicine (CPM) Dean V. Kathleen Satterfield, DPM, FACPM, MAPWCA.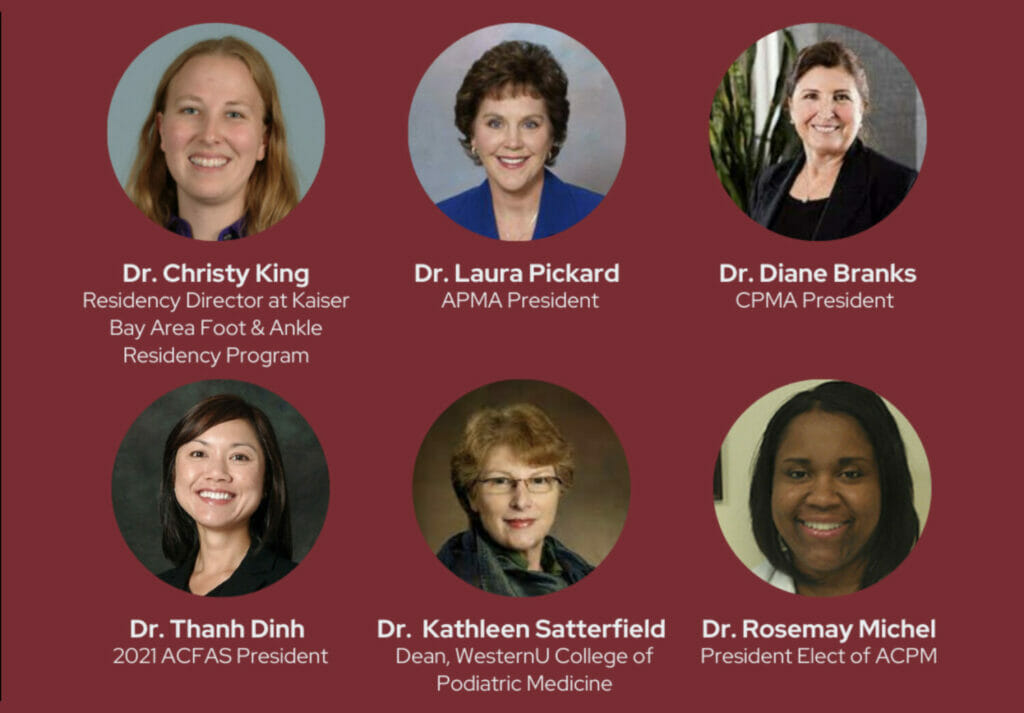 The six leaders on the panel echoed concepts of what it takes to be a woman leader that included listening, teamwork, being involved and mentorship.
ACFAS Immediate Past President Thanh Dinh, DPM, FACFAS, said being a doctor of podiatric medicine is "totally worth it."
"Every woman leader that you see here, it's all about sacrifice, there's no doubt that that is part of the equation, but it's so worth it," she said. "You will see it on the other side. I trust all of you will get there."
APMA President Laura J. Pickard, DPM, said she would tell her younger self that it's important to get involved early because it helps your career.
"Don't look at volunteering … and think 'That's not going to help me.'" she said. "It's going to drastically help you. It will help you in your own professional life."
CPM Dean Satterfield said podiatric medicine is a small profession of about 15,000 podiatrists, and about 150, or 10 percent, are active and there are about 50 that go above and beyond.
"You are looking at five of them here on this panel," she said.
Dr. Satterfield echoed what CPMA President Dr. Diane Branks said about leadership, going a step further saying it's the most important word of the night.
"Every one of you, if you are a student, pick a mentor in your profession whose career you would like to mirror and improve upon and they will be glad to help you succeed," Satterfield said. "It's an honor to mentor students and a good mentor can help you to not make the mistakes that we all made and to get to the success path earlier."
The event was organized by the WesternU AAWP student chapter and CPM Assistant Professor Rebecca Moellmer, DPM, FACFAS, FAAPSM.
"This is a really great time in our podiatric medical history. We have women leaders in some of the most well-respected organizations in our profession," Moellmer said. "I wanted to introduce (DPM students) to different types of leaders who are all well-respected. Some are more formal, some more casual. Some are surgeons, some are leaders in academia. I wanted to show how many different directions you can go and still be a success in our specialty."
The mission of AAWP is to be the leading organization cultivating personal and professional development of female podiatric physicians, through education, advocacy, leadership, mentorship, and networking endeavors, said first-year College of Podiatric Medicine student Sabiha Wahab, president of the WesternU student chapter of AAWP.
"Having the chance to learn from a panel of prominent female leaders in podiatric medicine means that I am being gifted with so much insight, invaluable experience and lessons which I will one day be able to apply to my own career," Wahab said. "It is truly a privilege to be able to hear from them."
Role models are important to motivate women to defy gender stereotypes and become successful leaders, Wahab said.
"I now recognize that leadership roles are there to remind me that the hard work I put into school is not just for me but for generations after me who could possibly be inspired by how I build my career and lead," she said. "I hope to one day inspire others like the speakers on our panel."