Student doctors from Western University of Health Sciences College of Podiatric Medicine (CPM) held a virtual Match Day celebration Friday, March 18, 2022, learning where they will complete their post-graduate medical training.
This year's CPM class had all 38 eligible student doctors match for a 100% residency placement for the ninth year in a row.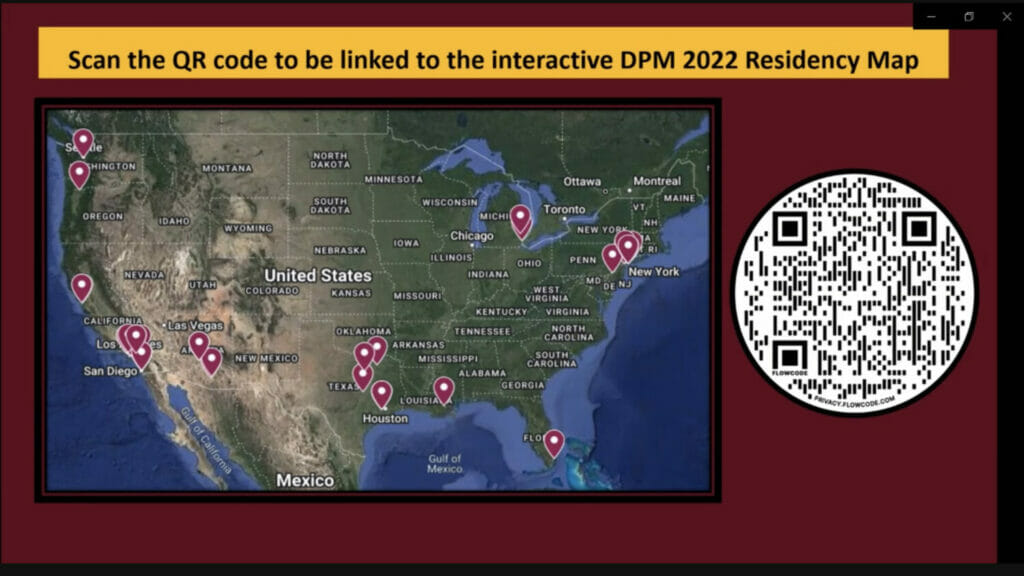 CPM Dean V. Kathleen Satterfield, DPM, FACPM, thanked the Zoom and YouTube audience for being part of the soon-to-be graduates' journey that led to Match Day, and that they were here today to celebrate CPM students as they learn where they will spend the next three years of their lives in their residency programs. She also thanked MedPro for sponsoring this year's CPM Match Day.
"All the WesternU family, and especially the College of Podiatric Medicine, are so proud of you and your accomplishments and we congratulate each one of you on the program with which you have matched," Dr. Satterfield said. "As the Dean, I am so proud of every one of you and I wish you remarkable success."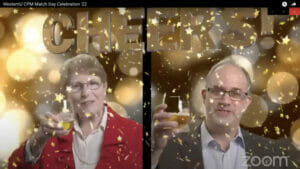 WesternU College of Podiatric Medicine Associate Dean of Clinical Education and Graduate Placement Jonathan Labovitz, DPM, FACFAS, CHCQM, kicked off the toast with special glasses and cider which was delivered to each student to celebrate this occasion.
"Along with your CPM family, I want to congratulation each of you on all of your accomplishments," Dr. Labovitz said. "Although we cannot toast you in person, we would like to toast you virtually, so please raise your glasses so we can toast all your accomplishments and CPM will continue to toast your successes as you begin the next chapter in your career. We wish you much success."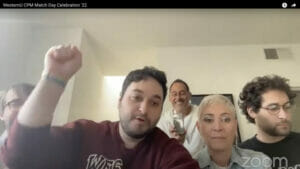 As the time approached 9 a.m. for the reveal, Labovitz announced they could check CASPR or that the Office of Student Affairs would be sending students their results to their WesternU email, and after seeing their email, a map will appear showing the results of where the Class of 2022 matched.
Fourth-year CPM student Lindsey Bustos grew up in both Southern California and Las Vegas. She matched at her first choice, Scripps San Diego – Kaiser Sacramento track.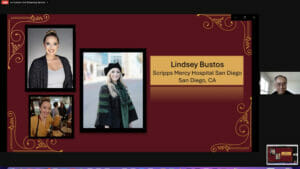 "I am excited to start my training. I plan on hitting the ground running, doing the most, and pushing myself as well as those around me to grow," Bustos said. "I know it will be a rough ride, but I am happy to say my best friend from WesternU also matched at Scripps and I know having support will be what keeps me going, which is why I also chose to be closer to my boyfriend and mom."
Bustos said WesternU prepared her for residency through a strong academic foundation and through podiatric medicine rotations and four orthopedic surgery rotations.
"WesternU's Foot & Ankle Center, associated with our (College) program, was also a strong connection to have and the faculty there has helped me tremendously," she said.
San Diego native and fourth-year CPM student Anthony Wright matched at his No. 1 choice, John Peter Smith Hospital in Fort Worth, Texas. He, his wife, and two children are excited about the next chapter.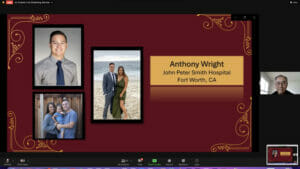 He chose podiatric medicine because the profession is like having multiple specialties rolled up into one.
"I loved orthopedics while a pre-med at UCSD, but being married with kids, and having a profession that offered the surgical aspect of ortho with half the time for residency really appealed to me, allowing our family to get started with our lives a bit earlier."
CPM alumna and Assistant Professor Chandler Hubbard, DPM '18, congratulated the soon-to-be graduates on matching into their first official job as a physician.
"Remember to not only take care of your patients but take care of yourselves," she said. "Residency will absolutely have its challenges, so confide in your family, friends, co-residents, and us, your faculty. We are always here for you. Remember that every expert began as a beginner. I'm so proud and excited for all of you, you did it."