WesternU COMP students provide health screenings at Juneteenth event
June 20, 2022
Read 4 mins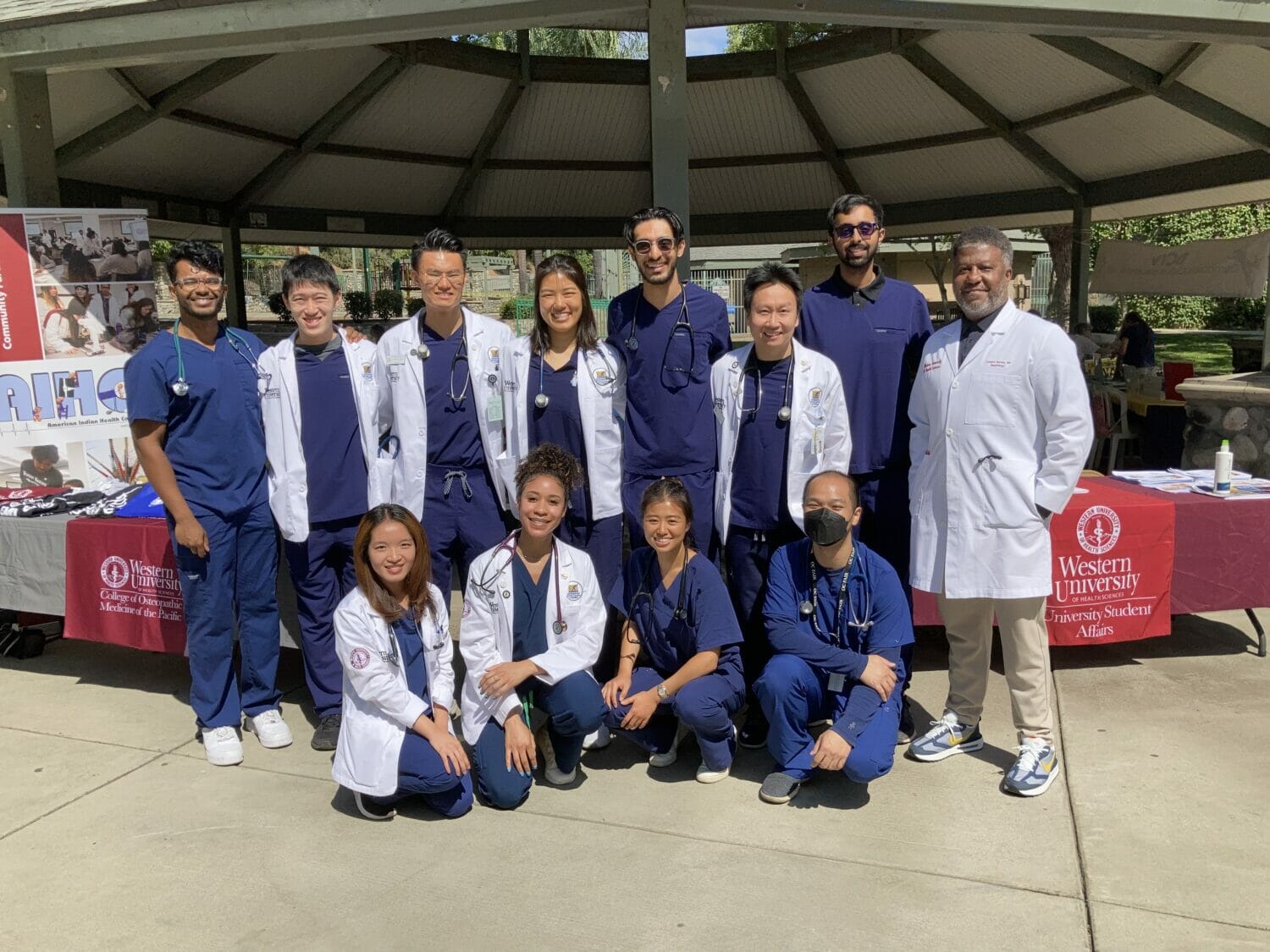 Western University of Health Sciences College of Osteopathic Medicine of the Pacific (COMP) students provided free health screenings at the Pomona Valley Juneteenth Jazz and Art Festival at Ganesha Park in Pomona Saturday, June 18, 2022.
WesternU's free Juneteenth Health Fair included blood pressure and blood glucose screenings and wellness information. The Juneteenth Health Fair was presented by the WesternU Office of Humanism, Equity, and Anti-Racism, the Center for Academic Community Engagement (ACE), and the WesternU chapters of White Coats for Black Lives (WC4BL), the Student National Medical Association (SNMA), and Black Students United (BSU). The students were supervised by COMP Vice Dean Edward Barnes, MD, FACP, and supported by ACE Director of Educational Partnerships & Outreach Helen Musharbash, Vice President for Humanism, Equity, and Anti-Racism Suresh Appavoo, EdD, and Senior Vice President of Institutional Engagement Planning, & Effectiveness Stephanie Bowlin, EdD, PA.
Pomona is very diverse, and this event provided an opportunity for COMP students to immerse themselves in the community and serve the patient population they intend to serve in their future careers, said COMP Class of 2025 student Cheyenne Tate, MS, who serves as WC4BL and BSU president and SNMA vice president.
"We want to make our presence known in the city we represent," Tate said. "We want the community to know we want to be involved and that we care. This event in particular, the Juneteenth celebration of freedom, is extremely important for our clubs to be part of because this needs to be celebrated and appreciated more than it is. It culminates everything we are about and everything we believe in."
High blood pressure and diabetes runs rampant among people of color, so it is important to screen them firsthand, Tate said.
"We will be doing blood glucose sugar testing and running a health education booth talking about sickle cell disease, which runs high in the African American population," Tate said. "We will talk about healthy diet and exercise and what people can do to prevent high blood pressure and diabetes."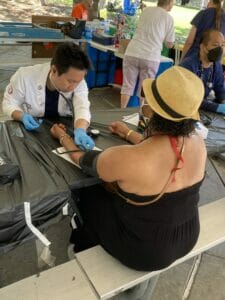 Pomona resident Tamela Hutchinson, who served as a Pomona Community Life Commissioner and attended the Juneteenth festival representing the University of La Verne, said the WesternU students were very welcoming and approachable when they took her blood pressure and glucose readings.
"I'm glad WesternU partners with this community event. I think it's absolutely important for students who are going to be doctors to have that exposure and connection to not just African Americans but to other ethnicities," Hutchinson said. "When you have experience dealing with other cultures, you are more sensitive to their needs."
Later in the day, Tate shared a special moment with two young, aspiring doctors.
"Their mother told me that they were obsessed with stethoscopes and anything that had to do with being a doctor. She asked if I would take a picture with them with my scrubs and white coat on. Not only did we take a picture together, I was able to get them a couple of stethoscopes to play with, teach them how to use it, and even got them to listen to theirs and my heart," Tate said. "My first time ever seeing a female black physician, in person, was in college. I believe it is very important to see people who look like you doing the thing you want to do at a young age. This interaction was special to me, because I was able to show these young girls that they, too, can be doctors should they choose to do so. Almost like saying, 'If she can do it, then so can I.'"