WesternU COMP students don 'symbol of trust' for the first time
August 14, 2023
Read 1 mins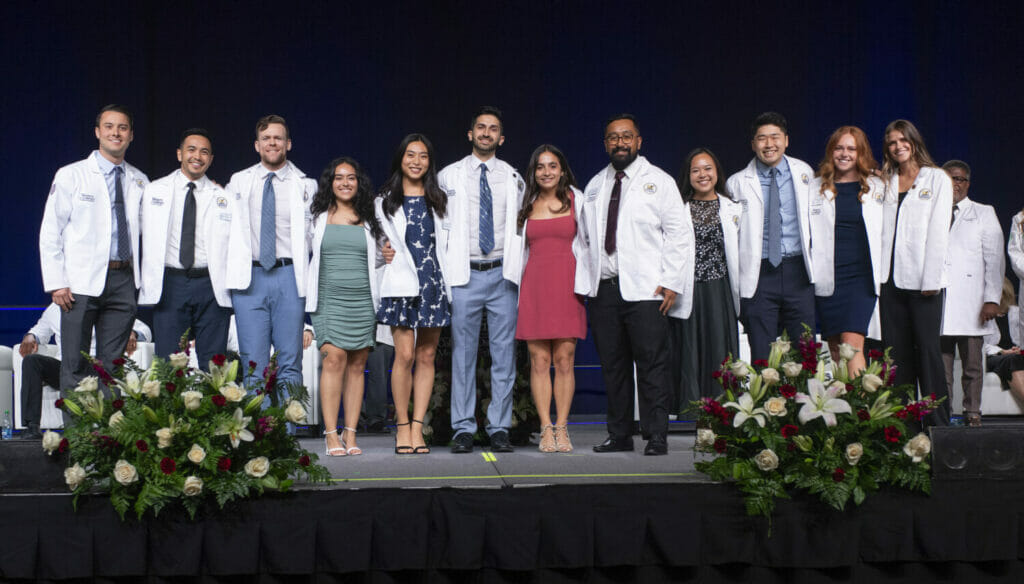 Western University of Health Sciences College of Osteopathic Medicine of the Pacific celebrated the incoming Class of 2027 with a white coat ceremony held Aug. 10, 2023, in Ontario, California. Students were told to wear their white coats with pride and humility, and to also remember to take care of themselves amid the rigors of medical school.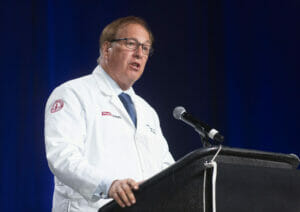 COMP and COMP-Northwest Acting Dean David Connett, DO '84, FACOFP, Dist., told the students they were carefully chosen to lead and transform the future of health care. He urged them to remember the privilege and responsibility that comes with their white coat, stethoscope, and digital doctor bag.
"Your role as a medical student is not to be taken lightly. It demands dedication, compassion, and a commitment to service," Connett said. "The oath you take today and the one you will take in four years must be held sacred, as your future patients will entrust their lives to your hands. Throughout your medical education, you will be faced with challenges both academically and emotionally. The transformation to becoming a physician and scientist can be stressful, but it is worth it."
Connett also emphasized the importance of self-care and to prioritize sleep, exercise and self-compassion.
"In times of uncertainty, remember that it's OK to make mistakes and to learn from them. Embrace failure as an opportunity for growth and always treat yourselves with the same kindness and empathy you would extend to your patients and loved ones," he said. "Your white coat is not merely a symbol. It embodies humanism, compassion and service, values that you already exemplify and should continue to uphold."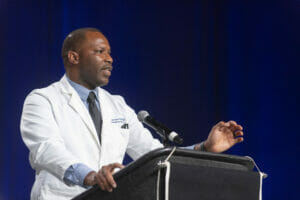 Keynote speaker and COMP alumnus Nnaemeka Diribe, DO '17, serves as an emergency medicine physician at Desert Regional Medical Center in Palm Springs, California. He reassured the incoming students that they will never be alone. He encouraged students to create and cherish their network.
"Make new friends of your colleagues because as rigorous as your studies are about to become, you have to learn to lean on each other. When they offer help, take it. It's not a sign of weakness," Diribe said. "If you see someone struggling, please offer your help. Your humanity has to be your guide, and I promise you cannot care for patients if you cannot care for the person that's just next to you and if you cannot care for yourself."
He also reminded students that they must not alienate their family amid the rigors of medical school because they will need their support.
"In the face of all the long hours and new responsibilities, remember what I said before. Remember to be the one that brings the kind face. Remember to be the one to bring a gentle touch. Remember to be the one who is compassionate. Because the truth is when you are at work, everybody else copies what you do," Diribe said. "Despite everything else going on in society now, please remember to embrace diversity and a culture of humility because for some of your patients it will make all the difference. As you put on your white coats today, I hope you do it with a lot of humility and also with a lot of pride because you're getting to do something that most people will never get to do in their lifetime."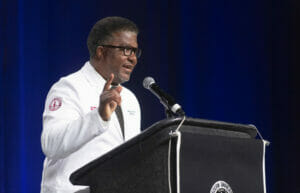 COMP and COMP-Northwest Vice Dean Edward Barnes, MD, FACP, said the doctor's white coat is a symbol of trust.
"You will get a window into other's lives during their happiest moments. You'll also be with them during their most vulnerable," Barnes said. "The profession you have chosen is all about people and the relationships you make with them."
He asked the students to close their eyes and envision moments they will share with patients, from the joy of telling a couple they are having a baby, to embracing a patient's family as they've just lost a loved one.
"In a white coat you will truly share your humanity and your humility," Barnes said. "No matter what path you choose in your medical career, the trust that accompanies your white coat will be present. The trust that you have trained to the best of your ability, the trust you are placing your patients' well-being at the forefront. The trust that you will be culturally competent, compassionate and caring to all your patients no matter their backgrounds, beliefs, political views, race, sexual orientation, sexual identity, gender, religion or creed. You and your white coat will be there for people at their most joyous and at their most vulnerable moments."
First-year COMP student Ramtin Sahafi said COMP is the best school for him.
"When I did my interview with them, it was a positive experience. They treated me very well and it seemed like they would be an advocate for me and would be excited to have me here," Sahafi said. "I have had a very positive experience with everyone I have met here."
Many of his family members are doctors, so he's always wanted to become one as well, Sahafi said.
"I have considered other fields, but I think medicine is the right track for me because I love treating people, I love helping people," he said. "I have had history doing that my entire life and I feel it's a rewarding experience to be an advocate for patients and making sure they get the best health outcome."
First-year COMP student Mehzabine Lala said she is excited to start medical school. She's also nervous, but the faculty have been incredibly supportive.
"I have a really big passion for genuinely making a difference in people's lives and I love the sciences and medicine," Lala said. "Since the first time I stepped into a hospital I think I completely fell in love, it felt like I was home. I'm excited to challenge myself to learn the fascinating universe that is the human body and to be part of such an impactful part of peoples' lives."