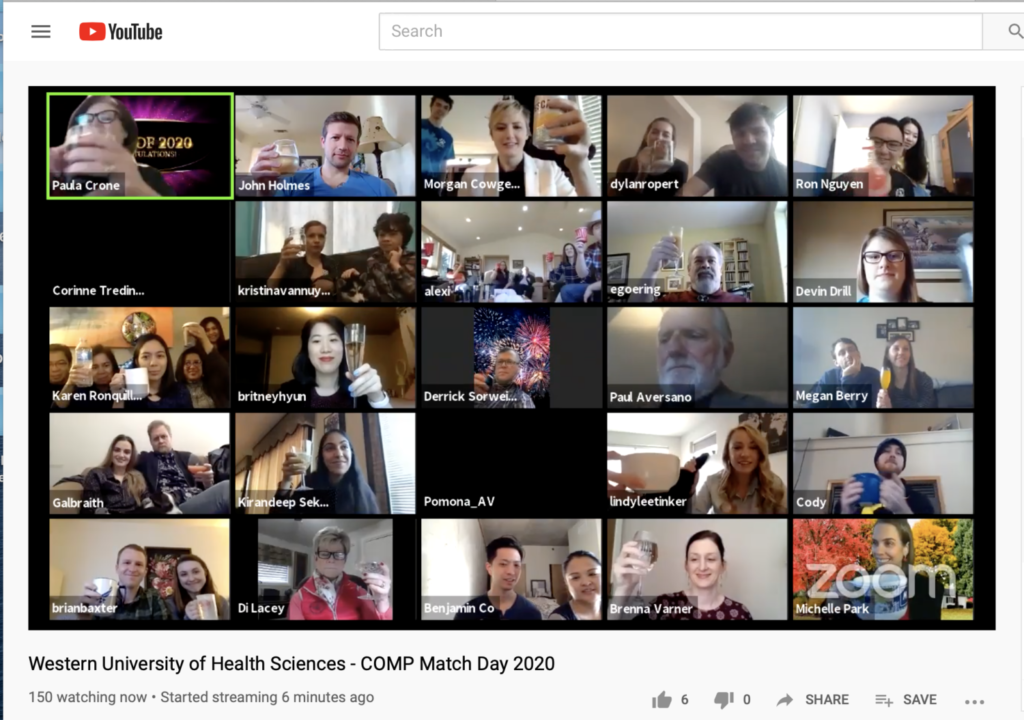 Western University of Health Sciences created a virtual online party to celebrate Class of 2020 fourth-year medical students in Pomona, California and Lebanon, Oregon as they learned where they would go for their residencies.
With both WesternU campuses moving to online classes and social distancing due to the COVID-19 pandemic, the College of Osteopathic Medicine of the Pacific (COMP) held an online celebration via Zoom and YouTube on Friday, March 20, 2020.
COMP Dean Paula Crone, DO '92, celebrated the class for its accomplishments.
"Your generation will be shaping the future for all of us," she said. "Take good care, please, and shape it well. Your actions are going to be defining your character. I have confidence in all of you that your character is good and that our futures are in good hands. As many of you have heard me say many times over the last four years, we are counting on that, and we are counting on you."
Match Day is celebrated across the U.S. as fourth-year medical students learn which U.S. residency programs they will train in for the next three to seven years. The Match is hosted by the National Resident Matching Program (NRMP), through which medical students obtain residency positions in accredited training programs. The Match represents the culmination of students' undergraduate and medical school education, which in most cases means a minimum of eight years of study.
COMP had in recent years expanded its Match Day celebration until it grew too big to hold on campus. Last year it was held at the DoubleTree by Hilton Hotel in Ontario.
But the COVID-19 pandemic changed this year's plans, as it has changed so much of the world in recent months. To maintain social distancing, students logged into a Zoom meeting filled with COMP faculty and staff. The images on screen shifted and changed as participants caught glimpses of their classmates' homes and small celebrations. One student commented, "I never thought I'd be able to attend Match with my cats." Indeed, many pets, as well as children and other family members, made appearances on students' feeds as the celebration continued. After opening emails announcing where they would go for residencies, students shared their destinations by specialty.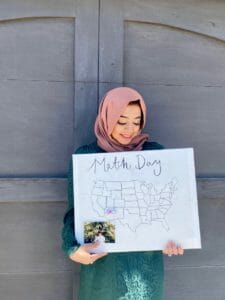 "Match Day was not what I expected. At first, I was really disheartened when our ceremony was cancelled, although it was the right thing to do," said fourth-year COMP student Anusha Abbas, who matched into her first choice, the Creighton University Arizona Health Education Alliance Family Medicine Residency Program at St. Joseph's. "I had been looking forward to this moment for four years, and it seemed as if it would be nothing like I expected, but I am so happy that it actually turned out better than what I envisioned. It was really great to see our class, faculty, and Dean Crone accept so gracefully what is the right thing to do while still making the best of our circumstances."
Crone announced that COMP and COMP-Northwest had their highest match rate through the NRMP, surpassing last year's class. More than 96 percent of COMP students placed into residency programs, said COMP Assistant Dean for Graduate Medical Education Lisa Warren, DO '01. The caliber and diversity of where they will pursue their training is additionally impressive, she said. More than 60 percent, 124 of the 207 graduates, will be pursuing primary care specialties.
"To feel the excitement and be a part of this very special moment in their careers is the most rewarding part of my job," Warren said. "This is the reason I work at WesternU. I enjoy investing in these students and helping them develop into the type of physicians they are meant to be."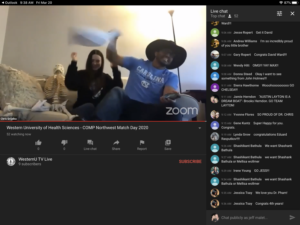 One hundred and three students from the COMP-Northwest Class of 2020 have placed in residency programs. Of those students, 49 placed into primary care fields including family medicine (21), internal medicine (13), pediatrics (eight), and OB-GYN (seven). Students also placed into emergency medicine residency programs (17); psychiatry (three); general surgery (six); one in neurology and two in child neurology; and anesthesiology (nine), among other specialties.
The Class of 2020 graduates will enter residencies at a unique moment in time, caring for their patients amid the COVID-19 pandemic.
"They will be expected to be at the front lines on Day One to fight this pandemic crisis by supporting and relieving our current health care workforce," Warren said. "We have all confidence in them that they will rise to the situation and be leaders in their training programs."
Match Day is one of the greatest milestones in a medical student's career, Warren said. The COVID-19 pandemic developed over the course of recent months as students and faculty waited for Match results.
"To be honest, I was not sure how an experience like Match Day could be delivered virtually. But today's Match Day was a huge success. There were over 200 Zoom accounts participating with families, pets, students, faculty, and staff sharing in this momentous occasion," Warren said. "As I scrolled on the screen to watch all the students' expressions, I was taken aback with tears. This was one of the most emotional, celebratory events I have ever attended.  I know many of these students personally, and knowing how much they had to sacrifice, it was such a joy and proud moment to see them celebrating with their family and friends."
Abbas said she felt detached from Match Day the night before the reveal, given the pandemic chaos taking place. But she woke up on Match Day morning to find her sister, Rabail,  surprising her by decorating their game room with "Match Day" balloons and creating a display with memories throughout her journey to residency, notes of encouragement, and a U.S. map where she could pin her result.
"Opening the letter was nerve-racking. It felt as if my eyes were scrolling forever until I saw 'Creighton' and instantly was overtaken by excitement," Abbas said. "My parents hugged me and my siblings caught their reaction on video, and then we celebrated with taking much-needed naps and dinner together at home. Although it was totally different than what I imagined, I ended the day feeling as if it was better than any other scenario."