WesternU COMP student accepted into prestigious NIH research program
July 11, 2022
Read 4 mins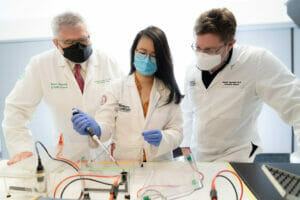 Western University of Health Sciences College of Osteopathic Medicine of the Pacific (COMP) student Rebecca Kuan has been accepted into the prestigious National Institutes of Health (NIH) Medical Research Scholars Program (MRSP).
The MRSP attracts the brightest talent from across the country. Medical, dental and veterinary students live on the intramural campus of NIH in Bethesda, Maryland and conduct basic, clinical or translational research for one year. Kuan recently completed her second year at COMP and will begin her third-year clinical rotations in 2023 after completing the MRSP. She is the second WesternU student to join this program, following COMP student Fady Guirguis' selection in 2019.
Kuan's interest in research predates her decision to go to medical school.
"While in college, I decided I wanted to have a career that has a substantial research component," Kuan said. "This is a unique opportunity to move one step further in that direction."
Kuan is part of COMP's Biomedical and Clinical Research Track, led by COMP Professor Hendrik Szurmant, PhD, and Associate Professor Sebastien Fuchs, MD, PhD. They introduced Kuan to research opportunities such as the MRSP.
"Dr. Fuchs and I are always on the lookout to make sure we can support students who desire a pathway towards becoming a clinician and researcher for life," Szurmant said. "It was clear from the get-go that Rebecca was heavily interested in this program. When students have that interest, we want to make sure they have all the opportunities to follow that career path. Networking and developing connections in NIH will be invaluable for these students for their careers and future prospects."
Kuan said she enjoys the project-based nature of research where she can focus on one topic.
"There is this question about something in world we don't know. What are the strategies we can employ to answer that question? Either the results make sense or they don't make sense and you troubleshoot it," Kuan said. "I think that process appeals to my way of thinking."
Kuan said she loves a lot of different aspects of research.
"I feel like it's a field you can always learn something new by the nature of what you're doing, answering questions people haven't asked and answered before," she said. "With research, even if I know all the strategies, there are different ways to look at something. I'm always thinking through different things, figuring out how to piece things together."
She has spoken with Fady Guirguis about his MRSP experiences, which was helpful as she developed her MRSP application.
"He is a valuable source of information in terms of sharing his own experiences and referencing the experiences of others in his cohort," Kuan said. "He talked about the pros and cons of entering the program after his second year. He is also helpful as a sounding board, rather than blindly doing things based on what I personally think. He's been great."
With two students accepted into MRSP, Szurmant said he and Fuchs have a good understanding of what it takes to become a competitive candidate for the program.
"Having a second NIH MRSP recipient shows the progress we're making as an institution in valuing research and giving opportunities to our students and making sure they're involved in the research process," Szurmant said.
The MRSP guidelines state that student applicants do not need a specific research background, Fuchs said, but through experience they have found it is essential for applicants to show the NIH committee they are dedicated to engaging in research during their career, and that they will keep conducting research in the future.
"This type of achievement allows us to be recognized at a national level as a research institution where students can achieve extremely well and be nationally recognized," Fuchs said. "And it will also help in recruiting more qualified students who are interested in research. They will see the achievements of our students and decide this is the college where they want to be."
Kuan said among her goals for her time in the MRSP is to improve her computational skills and to work with larger data sets.
"When I'm pipetting with samples, I can't get tens of thousands of samples. Most of the data sets I'm able to work with are not on that scale," Kuan said. "I feel in the future if I want to work with larger data sets, I need more computational skills."
She also wants to meet physician scientists at NIH who could serve as mentors.
"I want to learn from them, in a professional sense, how did they get where they are so I can see the possible paths I might want to take," Kuan said. "My dream is to do both clinical work and research. I'm still trying to figure out how to strike that balance and what that necessarily means. I want to figure out where my priorities are going to lie. Conversations with different physician scientists who have chosen different paths can show me what exists out there and what might be a good fit for me."