WesternU COMP Professor helps organize international tuberculosis meningitis workshop
March 28, 2017
Read 2 mins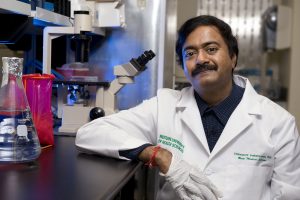 Tuberculosis (TB) is one of the world's deadliest diseases, according to the Centers for Disease Control and Prevention. One third of the world's population is infected with TB. In 2015, 10.4 million people around the world became sick with TB disease, and 1.8 million TB-related deaths were recorded worldwide.
Collaboration and research is vital in addressing this issue, and Western University of Health Sciences College of Osteopathic Medicine of the Pacific Associate Professor Vishwanath Venketaraman, PhD, is on the forefront of these efforts. He is helping to organize the Tuberculosis Meningitis: Advancing Immunopathogenesis, Diagnosis, and Treatment workshop May 22-23, 2017 in Rockville, Maryland by the National Institute of Allergy and Infectious Diseases.
Tuberculosis meningitis is the deadliest form of TB. A delay in treatment could result in death, paralysis or permanent morbidity, Venketaraman said. TB can affect anyone, but people with compromised immune systems are at highest risk. Many HIV-positive patients in sub-Saharan Africa die of TB, he said.
"This workshop invites people from around the world who research TB meningitis to identify gaps in our understanding," Venketaraman said. "This could result in research collaborations and putting together grant applications."
Venketaraman is organizing the workshop with colleagues from around the world, including Vietnam, England and the Netherlands. He will also co-chair a workshop session, "Host Directed Therapy," with Guy Thwaites from the University of Oxford. Venketaraman will give a seminar on his research work titled "Glutathione as an immunoadjuvant."
"My laboratory does active research on host-directed therapies for TB and I've published a lot of papers on HIV and TB. I feel humbled and honored NIH asked me to be part of this workshop. It's recognition of my work," Venketaraman said.
Categories: